The new PS3 Slim and the phasing out of the 60Gb Xbox 360 are two of the worst kept industry secrets at the moment.
However since nothing has yet been confirmed we will have to continue to act like this is still a rumour. So put on your shocked face…
An Australian retailer (Harvey Norman) has started putting up flyers in their stores stating that a new PS3 is going to be arriving in September and if you want to get your grubby hands on one you need to put down a $50 deposit now.
They don't say what's different but according to the guy who took the photo the retail assistant told him
"were expecting it to be a bit smaller"
Why he didn't ask about the "Limited Edition" tag is anyone's guess.
My thoughts on this are that the PS3 slim is coming and at the same time Sony is going to go on a marketing bender selling limited edition bundles all over the place.
It has always made sense to me, if I can pick up a custom God of War or LittleBigPlanet PS3 for the same price as the standard one I always will, and marking it limited edition just makes people want to pick it up.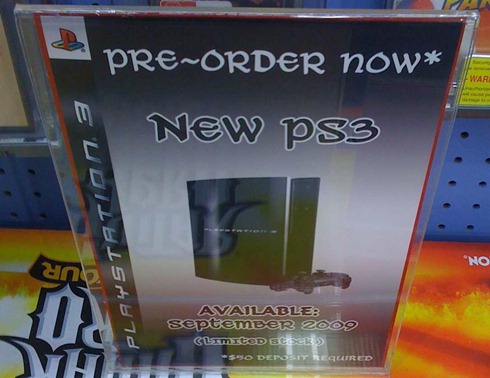 On a side note I scanned through the latest catalogues from Harvey Norman and couldn't find a PS3 for sale anywhere. They are listing the Wii, DSi, PSP and Xbox 360 in their catalogue but there isn't a PS3 in site.
Source: Playstation Forum
*You can stop looking acting shocked now
Last Updated: August 17, 2009