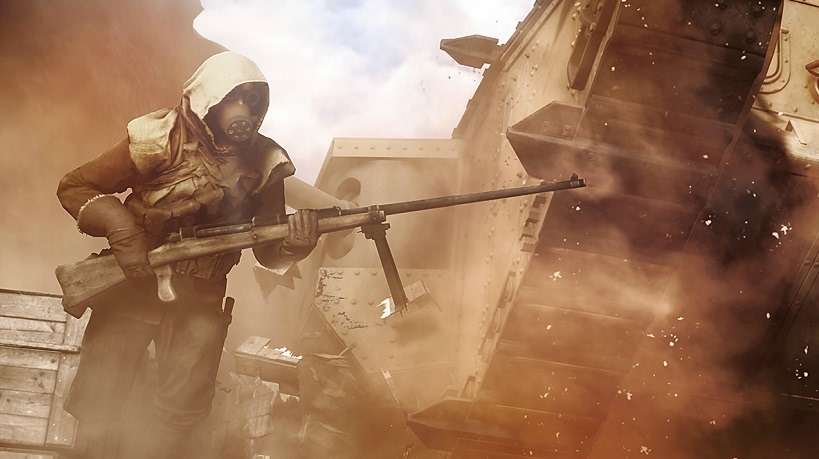 I never got to actually play Battlefield 1 at E3 just a few weeks ago, but the buzz around the World War 1 shooter could certainly be felt. DICE were captivating players with their new setting, offering up a slice of history with new weapons, vehicles and gadgets to play with. The gameplay itself though seemed pretty similar, and that's all that can really be said about some new multiplayer footage from the imminent title.
Recorded by many parties at a private event during the week of E3, EA has started allowing footage of the PC version of the game to trickle out on the internet. The footage comes from the multiplayer alpha that was available at the show, with all games being run on some pretty high-end setups. Digital Foundry dived deep into the settings here, pushing the Skylake Core i7 and GTX 1080 builds they were playing on to their limits.
The results are a little surprising. Battlefield 1, in this early state, seems incredibly well optimised (at least for DirectX 12 enabled Nvidia hardware), with the game even able to push out playable (but not optimal) framerates when rendered at 5K. Scaling down provided some stability, but overall the game looks as gorgeous as it runs.
If you're not too concerned about performance and just want to see some multiplayer action, there's a number of YouTube personalities that got their mitts on some footage to share. Stodeh took a particularly close look at the Sniper classes in Battlefield 1 – which have a surprisingly large amount of intel to go with them. Bullet velocities, drop times and reload speeds are all explored in-depth.
If you're just looking for pure Conquest gameplay though, the 25 minutes or so below should be to your fancy. No analysis, just shooting.
Battlefield 1 is certainly shaping up nicely if you're a fan of the franchise, but at least on the multiplayer side doesn't look to be trying to attract any new, interested onlookers. I'm personally far more excited for the campaign, which we have yet to properly see in action.
Last Updated: June 28, 2016