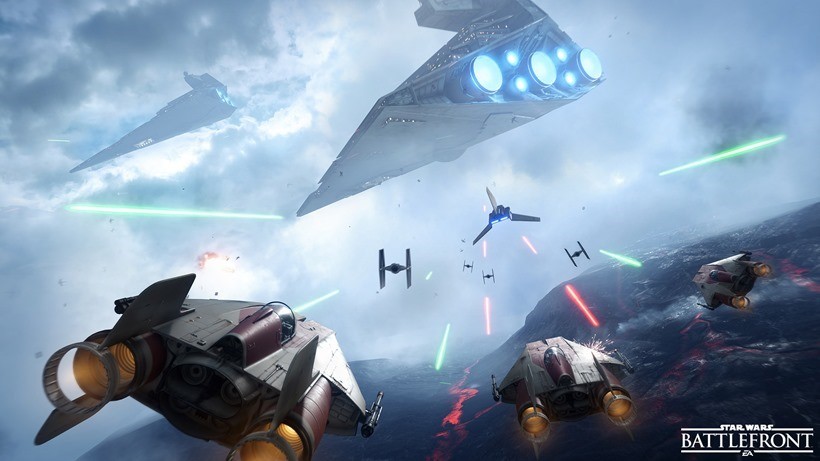 Star Wars Battlefront dropped yesterday to mixed, mostly positive reviews, with many critics questioning the longevity of DICE's take on the beloved shooter franchise. EA has been doing some odd things with their games lately too, turfing out microtransaction (yay) but doubling down on season passes (nay). Battlefront is no exception, with an incredibly expensive $50 season pass accompanying it. And that content is coming soon.
The first bit of DLC part of the season pass will drop in early 2016 according to EA, although what that content will be is yet to be determined. What EA do know is that if you pre-order the season pass RIGHT NOW, you get access to an exclusive "Shoot First" emoji and I can no longer keep a straight face this is too ridiculous.
Expand your galaxy with the Star Wars™ Battlefront™ Season Pass*. Get 4 upcoming digital expansion packs filled with new content that will take you to new locations across a galaxy far, far away. Act now to secure two-week early access to each expansion pack and an exclusive "Shoot First" emote. The first expansion pack will be released in early 2016. Stay tuned for more details on Star Wars Battlefront Season Pass* in the coming weeks
I find it incredibly interesting that around a month ago EA and DICE were pretty confused as to what could be in their season pass, even though they used that exact time to announce one existed. It seems either they weren't ready to share anything, or development on the first pack really ramped up in the past month or so.
Either way it's another frankly unacceptable way to segment a game while charging nearly double the standard price for all content. But hey, Star Wars Battlefront pre-orders were way higher than EA expected them to be and I'm pretty sure the season pass isn't that far behind. So I'm sure we can expect more of this in the future. Emoji!
Last Updated: November 18, 2015