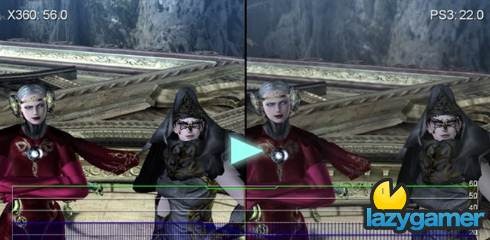 This isn't going to come as a surprise to anyone who has followed the Bayonetta demo comparisons between the Xbox 360 and PS3.
During the demo comparisons it was proven that the Xbox 360 version was far superior to the PS3 one in virtually every way but that was only a demo and obviously SEGA had time to go back and polish the PS3 version somewhat.
Well unfortunately they decided to go to the pub instead and while they were away the intern gave it a crack and broke the game some more. That's right the final version of Bayonetta on the PS3 is considerably worse than the 360 version, even more so than we saw in that demo.
I won't attempt to recreate the lambasting that the PS3 version just received over 3 pages by Digital Foundry but to put it in a nutshell the 360 version is vastly superior in absolutely every way and they even go so far as to say.
"It's also difficult to recommend the game in this state when PS3 owners have the likes of Ninja Gaiden Sigma 2 and Devil May Cry 4 as potential alternatives"
Which to me says that if you don't have the option to get the 360 version then rather don't get the game at all. ouch.
If you are a die hard PS3 fan then I strongly recommend not reading through the link as they really have nothing good to say about the PS3 version. If you are a 360 fan who loves to see the PS3 fail then bookmark the site to ensure you can always return to relive the ecstasy.
Some choice quotes from the comparison
"On Xbox 360, it is a magnificent game, as our import review testifies. On PS3, it looks like an Xbox 360 exclusive that has been dragged unwilling, kicking and screaming across the divide. "

"First impressions are that performance is severely impacted in places on PS3 and that graphics have been pared down to boot"

"Frame-rate is often running at half the speed of the 360 version and the performance impact, combined with the sheer amount of stuff going on, essentially makes the PS3 version more confusing than playable: you're starved of visual feedback."

"Throughout the game the gap in performance is colossal, and pretty much unprecedented."
Okay I can't go on… in summary this is an embarrassment for the PS3 and in hindsight the developers should probably have simply made this an Xbox 360 exclusive.
If I were Sony I would be knocking down some doors to find out what went wrong here.
Source: DigitalFoundry
*Those numbers in the header image are the framerates, 22 frames per second… ouch
Last Updated: November 27, 2009