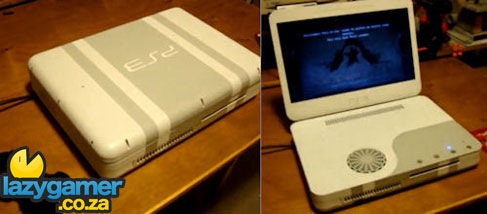 Benjamin Heckendorn, better known as Ben Heck has done it again. Stuffed the innards of a console into a portable shell, making it not only mobile, but beautiful too. Instead of an Xbox 360 though, this time he's done it with a PS3 Slim.
The reworked PS3 Slimmer-er features a 720p 17 inch screen, a front loading Blu-Ray drive, and umm…monochromatic pinstripes. Whatever. It's awesome and fills me with a lust that's generally only reserved for the fiddly bits of members of the opposite sex. Actually, all that PS3 laptop needs is a nice set of breasts to make it the ultimate gaming machine.
Hit the jump for a nice walkthrough video that although completely devoid of mammaries is still pretty gosh-darned cool.
Read more over at Ben Heck's blog, here.
Last Updated: October 2, 2009