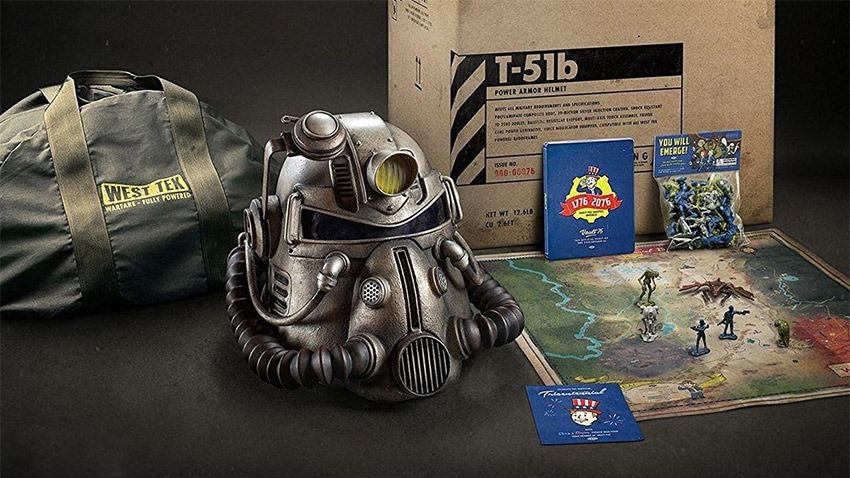 Fans accused Bethesda of a nasty bait-and-switch when it the very expensive Power Armour Edition of Fallout 76 shipped with a cheap nylon bag instead of the advertised canvas one. Consumer vitriol escalated when it was discovered that before Fallout 76 was even released, Bethesda supplied influencers with a different canvas Fallout 76 bag for free. Those bags weren't the ones advertised for inclusion in the Power Armor Edition, but their mere existence still rankled.
Bethesda's initial solution to the Fallout fallout was to gift all CE owners some free in-game currency.
We understand and respect that there is disappointment with the bag in the Power Armor Edition. We are sorry. Please contact Bethesda Support to provide proof of your CE purchase. They will assist in granting your account 500 Atoms.

Please visit: https://t.co/TJBMjYaph0

— Fallout (@Fallout) November 29, 2018
Given that 500 atoms isn't enough to buy a single player skin, fans remained upset – with many taking to their own regional advertising standards authorities to make claims of false advertising. Perhaps swayed by its army of lawyers, Bethesda will now be manufacturing and distributing canvas bags for those who should rightly have received them anyway.
"We are finalizing manufacturing plans for replacement canvas bags for the Fallout 76: Power Armor Edition. If you purchased the CE, please visit beth.games/2QDropM and submit a ticket by Jan. 31, 2019. We'll arrange to send you a replacement as soon as the bags are ready."
To start a claim for the canvas bags, players will need to log in to Bethesda's site and request a claim form, supplying proof of purchase, including the following details:
Product name
Date of purchase
Purchase amount
In the case of digital purchases, that becomes a little trickier – but Bethesda's created a page detailing how to collate the necessary information.
I'm not especially fond of vitriolic consumer action on the internet, but this is a clear case of not getting what was advertised. While it won't fix any of the game's problems, it's good that those who did pony up for the premier edition of the game get what they were promised.
Last Updated: December 4, 2018