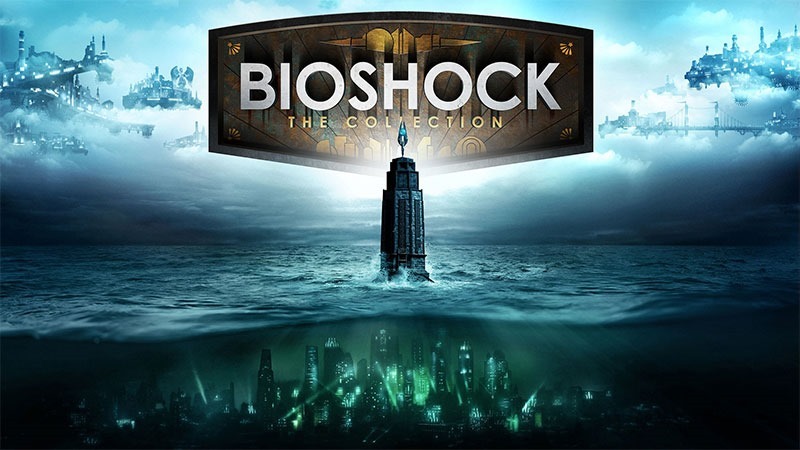 Yesterday we told you that 2K games had confirmed the release of a remastered collection of the trilogy of BioShock games. The first two undersea games that enraptured gamers last generation, and the mostly okay last game set on a floating island are coming back.
The remastered games will contain all of the single player DLC each game's received, and will be given a modern makeover, with higher resolution textures and a spiffy coat of paint. On PC, at least the first two will be. BioShock Infinite, on PC is already up to scratch, according to 2K, who says that the last game in the series "meets current-gen console standards" and runs "smoothly on high-end" PC settings.
If you're a new-gen console player the collection is very likely worth buying, especially if you've not played Irrational's dystopian trio. On PC, less so. Which is why it'll be free to those who already own the games.
2K has confirmed that those who own BioShock and BioShock 2 (or Minerva's Den) will be given the newly remastered versions gratis.
"Working with Blind Squirrel Games, we've remastered BioShock, BioShock 2, and BioShock Infinite making them look better than ever," says the Steam page post. "If you already own BioShock, BioShock 2, and or Minerva's Den on Steam, you will be able to upgrade to the remastered version of the respective title(s) for free after release."
If you don't already own those games, now's a pretty god time to buy them. The first BioShock is available for a measly R43 on Steam right now, as is its mechanically superior but narratively lacing sequel. Of course it may be worth it to just buy the entire BioShock bundle for the next to nothing: R113 and then just waiting until September for the remastered versions to go live.
If you're a console player waiting for the retail release, here's what you'll get:
BioShock
The video series, "Director's Commentary: Imagining BioShock," featuring Ken Levine, creative director on BioShock and BioShock Infinite and Shawn Robertson, animation lead on BioShock and animation director on BioShock Infinite.
Museum of Orphaned Concepts: Walk through a Rapture-inspired virtual museum that gives you a behind-the-scenes look at discarded concepts that never made it into the original game.
Challenge Rooms: Outside the story of BioShock, tackle puzzles, splicers and Big Daddies. And achievements, of course.
BioShock 2
Minerva's Den: A self-contained BioShock story, presenting a side of Rapture you've never seen before. Use expanded combat abilities with the experimental Ion Laser and chaotic Gravity Well Plasmid, unique to Minerva's Den, as you face off against the Lancer Big Daddy.
Protector Trials: Take control of an Alpha Series Big Daddy woken out of hibernation just before the events of BioShock 2.
BioShock Infinite
Burial at Sea – Episode 1 & 2 Add-On Packs: This major two-part DLC pack completes the BioShock trilogy by taking the series back to where it all began. Return to Rapture just before the events of the original BioShock!
Clash in the Clouds Add-On Pack: Face 60 waves of challenges across four additional maps for leaderboard glory and unlock areas to explore in The Columbian Archaeological Society hub museum.
Columbia's Finest Pack: Combines the contents of the Industrial Revolution Pack and the Upgrade Pack and includes 500 Silver Eagles, five Lock Picks, six unique Gear items, and two weapon upgrades: Comstock's China Broom Shotgun and Comstock's Eagle Eye Sniper Rifle.
Last Updated: July 1, 2016