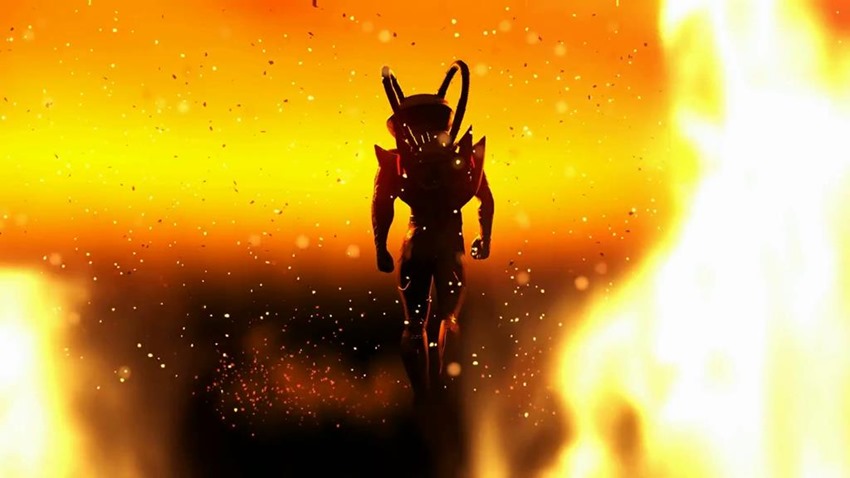 I f*cking hate Aquaman in Injustice 2. If DC Comics and NetherRealm wanted to distance themselves as far as possible from the stereotypical image of a founding Justice League member whose moist schtick has been mercilessly mocked for decades, then job well done. Because the Injustice 2 Aquaman may be the biggest dick in the seven seas.
Look I've got no problem with how he plays in Injustice 2. Aquaman is brilliant in that regard, with his special Water of Life ability giving him a split-second advantage that works to devastating effect in the right hands. It's just his personality that I find grating. If he looked down on characters any further, he'd be risking his neck snapping in two as his spine reaches ludicrous angles.
Fortunately, Black Manta is here to cut him down to size. While also looking cool as he walks away from an explosion without looking back. So cool:
Yes his helmet is silly and for good reason. In the comics, Black Manta's helm is equipped with all manner of weapons, the wide dome giving him a wider field of view and those destructive beams. You factor in all of his suit-based weaponry, that hover ability which will break up the flow of anyone's combo and that spear gun attack and he looks like a formidable mirror to the king of Atlantis.
Also, he really likes manta rays so go figure. A character with a complicated past, Black Manta has been everything from a thief, an escapee from Arkham Asylum after an autism cure went wrong and even a proponent of black rights as he sought to create a new refuge in the ocean for his people. The current version that Injustice 2 seems to be drawing inspiration from is that of a son seeking to revenge the death of his father that came at the hands of Aquaman.
Because like I said, Aquaman is kind of a massive douche in Injustice 2. Black Manta is the first of several new characters hitting the Injustice sequel, which also includes  Mortal Kombat's Raiden and Hellboy.
Last Updated: August 28, 2017