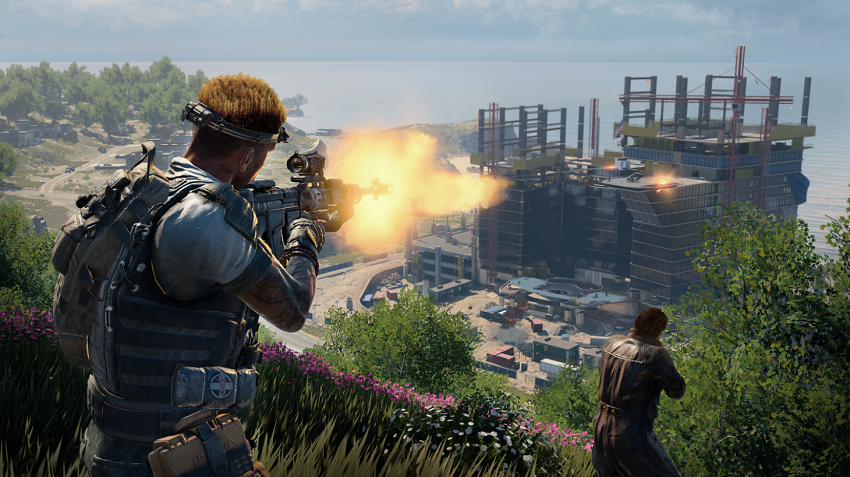 Call of Duty: Black Ops 4 is a departure from the established annual formula in a few ways. It's the first Call of Duty title that will ship without a campaign, stripping out the casual, often entertaining story mode for a big focus on Multiplayer and Treyarch's coveted Zombies modes. And if you're a fan of both, that's perfectly fine, especially since it looks like this year's iteration is  learning how to keep things over the top but dial it back just enough for the purists. To make up for the lack of a campaign though, Treyarch has been touting their crack at the growing Battle Royale scene, called Blackout. And I'd wager to say it's the best-looking part of the game thus far.
Blackout has been shrouded in secrecy for some time, and Treyarch has been careful to answer questions about map sizes and players counts. A lot of that information got detailed this week though, alongside a brand new trailer for the mode ahead of its private and open beta tests in the upcoming week. Blackout will take place across the largest map Call of Duty has ever featured (unsurprisingly) and host up to 80 players as each one battles out to be the last one alive. There's the regular Call of Duty zaniness thrown in for good measure though, which the gameplay trailer makes look like a hell of a lot of fun.
Vehicles, special killstreaks and zombie summoning weapons all feature in the bid to be the last one standing, which complement a seemingly very low time to kill that's common for the franchise. It looks far more frantic than the tension and slow gun fights of PUGB or the more fast and loose nature of Fortnite, which surprisingly makes Blackout feel like it has its own identity. It's not immediately coming off as "that game mode in a Call of Duty skin", but rather a clever take on Battle Royale with the core pillars of what players love about Call of Duty in the first place.
Of course we'll need to play it to really make sure, which makes this weekend pretty busy. Blackout is going live for players who have pre-ordered Call of Duty: Black Ops 4 this weekend, with the test eventually opening up to everyone on September 15th. That's a lot of time to drop in and give it a go, even if you've been put off by the strong multiplayer focus of this year's iteration.
Last Updated: September 7, 2018