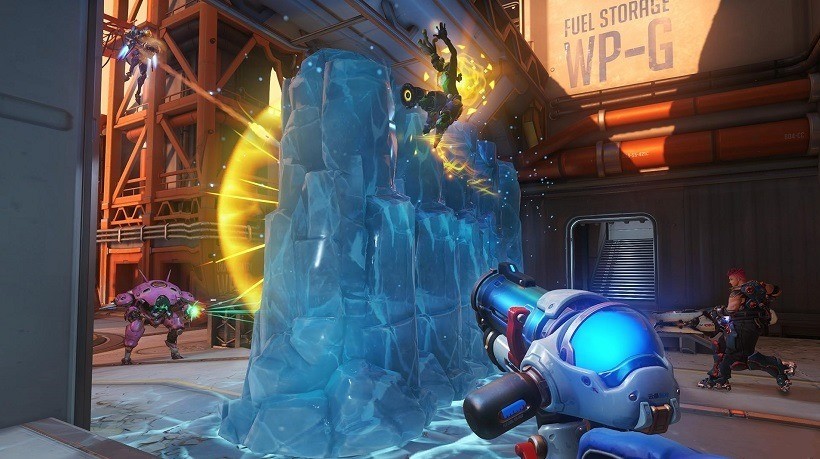 Overwatch was revealed last year at Blizzard's nearly annual BlizzCon event, so it's no surprise that it took the stage by storm at the opening ceremony this year. Blizzard is already incredibly proud of their first new IP in over 17 years, and the response to the beta has been overwhelmingly positive. To maintain this momentum, Blizzard went all out – revealing two new platforms for the shooter, three new characters, a new map and a release window.
So as rumoured (and then later confirmed) just before BlizzCon kicked off, Blizzard once again reiterated that Overwatch will be coming to PC, Xbox One and PS4 on the same day. The Origins Edition will retail for $60, and snag eager players some new character skins – as well as goodies for all of Blizzards other titles.
There's also a more premium special edition that comes with a figurine for Soldier 76, and that will retail for over double the price at $129.99. A digital-only standard edition will be available via Battle.Net for $39.99. Point is, Overwatch isn't going to be free-to-play – but it won't have any locked content either.
The roster itself is already pretty strong, but there have been murmurs throughout the week about the possibility of not one, but two additions to it at the premier event. Blizzard again went further and instead announced three brand new characters that will soon join the fray, and they're all pretty different to one another.
Genji is a cybernetic ninja (because Overwatch needs one of those) that takes the offensive by reflecting enemy attacks with his secondary weapon, a fittingly glowing samurai blade. He's primary attack is one with range, with Genji throwing out Shuriken like they're going out of style. He's one to get into the thick of things fast and do immense amounts of damage. He's also brother to archer Hanzo – which will be nice to have play out during in-game banter.
D.Va is the most confusing of the three, taking on the form of a professional gamer who is able to summon an experimental mech suit to her side in times of need. She's a suitable tanky hero that does most of the work when her ultimate is engaged, while also being able to pick off enemies with her standard pistol while it's on cooldown.
Mei is the most interesting of the lot though, harnessing the power of cold to slowdown enemies, freeze them in place entirely and generally setup favourable scenarios for more damage focused characters to make use of. She's a defensive character, but her cold gun gives her a lot of mobility around the map – letting her construct ice walls that act as vertical paths while simultaneously blocking enemy routes.
Overwatch will also being getting a brand new map set in Hollywood, which sees both teams battle it out around different film sets set in sci-fi universes and dusty wild wests. McCree is probably the most pleased out of anyone to have the latter. You can check it out, and every other character, in action in the new gameplay trailer for the online shooter below. Overwatch is expected to be out in the American summer of 2016, and no later than June 21st. Get hyped.
Last Updated: November 7, 2015