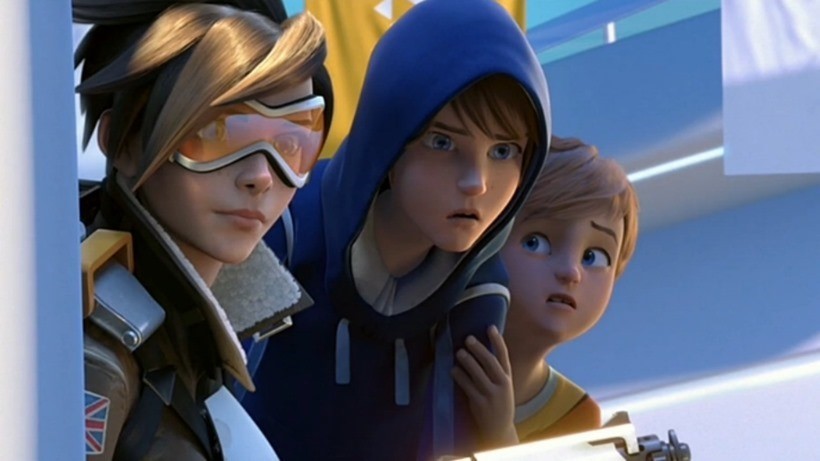 Overwatch does a really good job of throwing lore at you for an multiplayer online-only shooter. Each map is littered with throwbacks to the original Overwatch team that the game is named after – a global defence force that once saved the human race from the rise of sentient robots. That time has passed, and the members of Overwatch are now guns for hire in a sense. But what lead them each on the paths they eventually took?
Blizzard have been thinking about this a lot, and there's so much story to Overwatch that they really want to tell. During a panel at BlizzCon yesterday it was revealed that Overwatch will be getting a series of in-house comics to detail some of the characters, along with a series of animated shorts for each character in the same style as the cinematic reveal last year. Even better was the short teaser for the series, which showed off some of the progress Blizzard has been making.
That baby Winston is just too damn adorable for words. Honestly.
Blizzard isn't yet saying when these shorts will be out, but did confirm that they would flesh out a lot of the backstory to the Overwatch initiative, and how each member found their way onto the team. It's also going to setup some of the rivalries the game already features, likes those between Reaper and Soldier 76, or Hanzo and Genji. Characters are going to make big transformations in the lead up to the time where the game actually takes place, and it's all being controlled carefully by Blizzard.
Personally, I would pay lots of money to see a feature film about Overwatch and its colourful (and diverse) characters, so these animated shorts are almost a dream come true. Overwatch is out in June next year, on Xbox One, PS4 and PC.
Last Updated: November 8, 2015