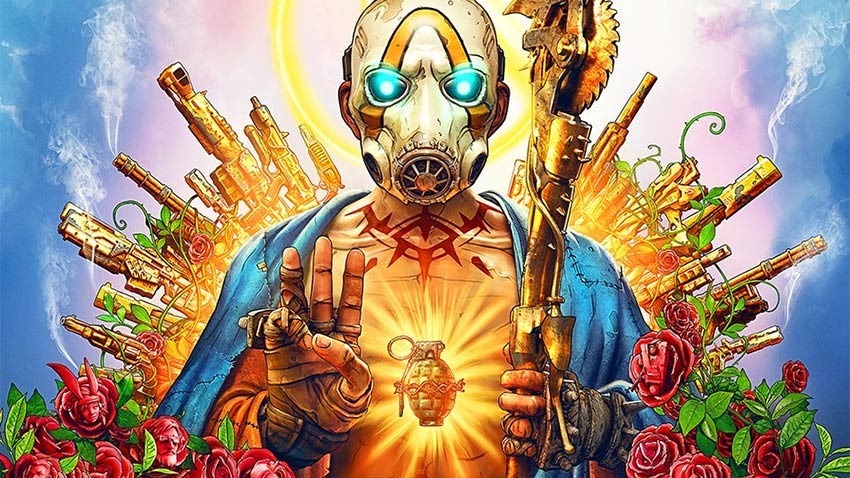 Yesterday we told you that Borderlands 3 was probably going to be released on 13 September, and that it was also probably going to be exclusive to Epic's Store on PC. Those are no longer just probabilities. They've both been confirmed by a YouTube ad that aired before it was supposed to.
The ad has the Epic store logo, but is missing one for Steam, which is pretty much confirmation about the exclusivity. I have no real problem with the exclusivity, but it is a little scummy that the existing steam versions of Borderlands games are getting shiny new upgrades to create hype for a game that won't be there for at least a few months after release.
On top of that, the video revealed the new vault hunters who are:
Also revealed is Borderlands 3's cover art, which is frankly amazing. Instead of a Psycho with three magical arms pointing guns at his own head, we have a cover with religious overtones, giving us a look at a very Catholicised Psycho Jesus. Given that the villains in the game seem to be worshipped, according to the trailer, it's fitting. Still, it may offend the ultra religious.
Perhaps more offensive though is the name of the on-the-nose deluxe editions and especially the Collector's Edition. On top of the regular version of the game, there's a Deluxe Edition, a Super Deluxe Edition, and the Diamond Loot Chest Collector's Edition which comes with a real-life loot chest, figurines, art, a map and a bunch of extra content.
Last Updated: April 3, 2019