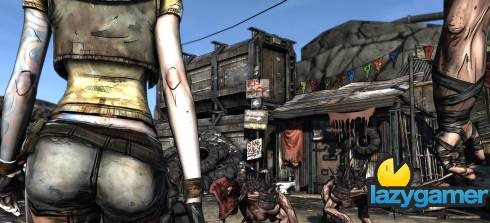 If you have already played, or are currently playing Borderlands, then you know that the game is kind of, you know, really awesome.
Awesome aside, we all know that in the world of gaming, being awesome doesn't always mean that your game will sell a ton of copies. With Borderlands this is not really the case as the game launched with good sales worldwide and great feedback from journalists as well as the gamers themselves.
VG247 had an interview with Gearbox's Mike Neumann recently and asked what the chances were of a sequel.
Neumann hasn't yet confirmed that a sequel is on the way (he strangely confirms that there is a chance, which doesn't really mean anything), which is fair enough considering that Borderlands is still fresh on the shelves but does say that there is a very good chance of a sequel being made, stating that it would be a "no-brainer".
Here is a snippet of the interview:
VG247: I guess it's a bit early to ask this, but Borderlands is really successful at the moment. Is there any chance of a Borderlands 2?

Mike Neumann: Yes, I can probably confirm that there's a chance of a Borderlands 2 [laughs]. I mean, with anything, especially a new IP, if people want more and you can make more, and everybody can make money and do good business there, it obviously makes really good sense to do that. Obviously nothing so far is planned. We're working on DLC. We haven't really had any talks about a sequel, other than water cooler talk like, "Wouldn't this be cool" kind of stuff.

But yeah, Borderlands is really exciting. Everyone here loves the franchise, and it seems like the public is really coming back with praise and love. So yeah, if everything makes sense, Borderlands 2 seems like a no-brainer to me.
The game has been well received and is selling really well, "no-brainer" really does apply here.
I am still enjoying my mission to get to level 50 and I am quite keen on the DLC as well, that is, as long as isn't crap. Let's hope that it's worth the bucks so that the looting may commence in new and unexplored areas.
You can read through the full interview through the link below.
Source: VG247
Last Updated: November 12, 2009