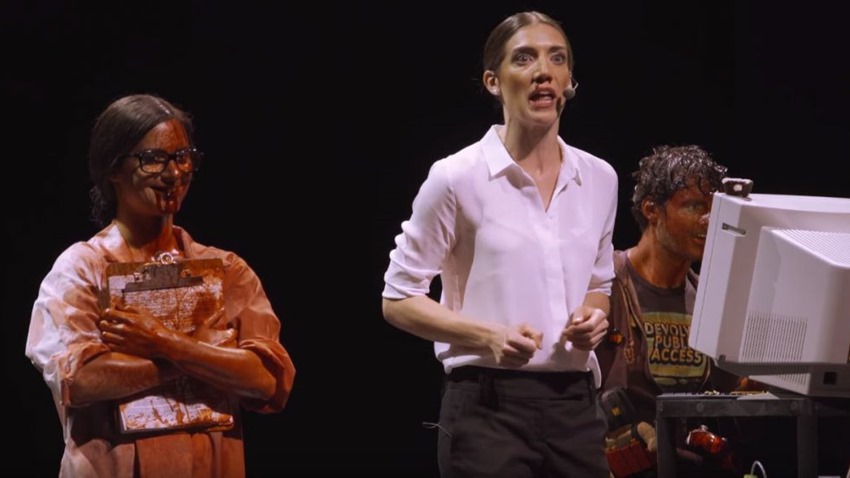 E3's gauntlet of press conferences are usually dominated by the big four: Ubisoft, EA, Microsoft and Sony. It's hardly surprising though, as the quartet of publishers and developers happen to have the market cornered in video game sales. The most triple of A-games, the biggest marketing spend and some of the best games on the market. Some.
While Sony might have upcoming games featuring Dad of Boy and Microsoft has…(checks smudged ink on palm)…Beers of Floor 5, the industry also has a few heavy-hitters in its featherweight division. Devolver Digital had a fantastic 2017, pushing out dozens of games that were modest in scale and brilliant in their execution. Nidhogg 2, Ruiner and Strafe were a few examples of the underdog having plenty of bite, which they showed off in a legendary press conference last year.
Or a massacre. I'm still not sure, because Devolver's press conference still haunts me. In case you missed it, here it is:
If you're a fan of Devolver's take on the Hyperbole machine that is E3's press conferences, then good news! They'll be back this year with another show, and they're already apologising in advance for it:
Devolver Digital E3 Press Conference 2018

Sunday, June 10 @ 8PM Pacific

Apologies in advance. pic.twitter.com/z22K4L0bC1

— Devolver Digital (@devolverdigital) May 18, 2018
Jokes aside, I always love the cheeky nature of Devolver at E3. If you're at the event, you can find always find them…not on the Los Angeles Convention Center show floor. Instead, Devolver usually sets itself up in an empty parking lot across the road, next to the venerated Hooters. There's also usually beer involved, the blazing star that is the Los Angeles sun and hands-on with. Like locally-made darling Semblance, which is hitting some fantastic milestones on its way to release.
Monday, 5AM in good ol' central African time is when you can tune in to watch the show. I have a feeling that it'll be quite different from the rest of the schedule.
Last Updated: June 6, 2018