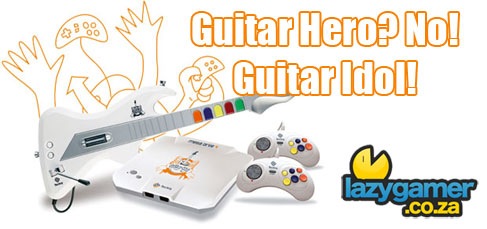 If you've been to Clicks or Verimark stores…ever… you've no doubt seen their undoubtedly above board Tele and MegaGameStations. These awful devices are essentially clone hardware of the Nintendo 8 bit NES and 16 bit Sega Megadrive. While I'm not certain about the dubious legality of these machines in South Africa, in Brazil the 16 bit versions are perfectly legal, and distributed by a company called Tectoy, all with Sega's blessing.
Somehow these frankenmachines are still popular, and Tectoy have released a new version, combining the joy of decade old games with the thrills of 16 bit Guitar hero. Wait…what?
Yeah. Tectoy's new Mega Drive Guitar Idol comes with a console with two 6 button controllers, a 5 button guitar controller and 87 built in games – one of which is "Guitar Idol," a 16 bit version of guitar Hero that I'm certain Activision has approved of. When you tire of playing such classics as Altered Beast, Flicky and Sonic 3 you can get your rock on by playing chip-tune versions of songs like Deep Purple's Smoke on the Water, The Ramone's I Wanna be sedated and Motörhead's Ace of Spades. Wow, licencing all these great tracks must have cost them at least a Brazilian dollars! Amirite?
Despite its dubitable licencing, I must have one of these! anyone going to Brazil any time soon?
You can find the list of games here, the track list here and its official product page here.
Last Updated: September 1, 2009