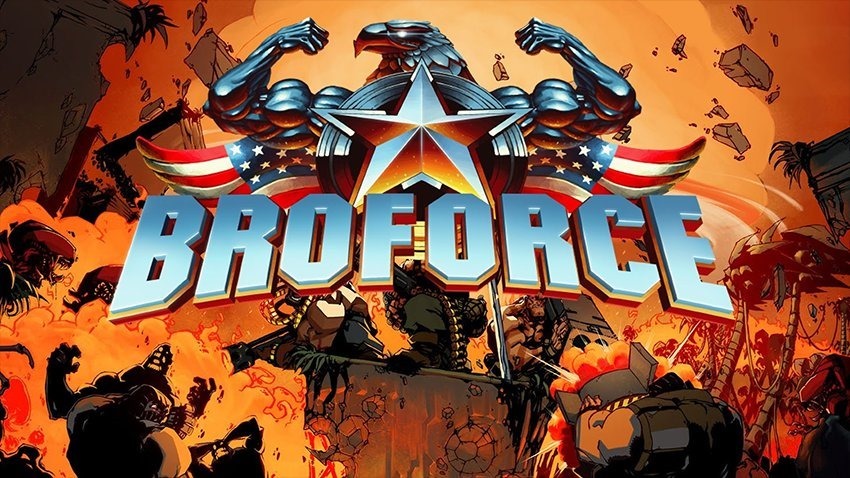 Broforce, the incredible little game from South African developer Free Lives, was a smash hit on PC and eventually made its way to the PlayStation 4. Unfortunately, the PS4 version lacked the features and updates found in the Steam version, and ran a bit poorly. With a choppy framerate, long load times and online lag, it just wasn't the best way to play the game.
When I switched on my PS4 yesterday, I was greeted with a surprise update to the game – and it seems to be running a lot, lot better. According to developer Free Lives, its received one heck of an update. The update appears to be the entire game, though its download and install size has been reduced by about a gigabyte. That can only mean that the code has been overhauled and optimised. Hooray!
Broforce has also been updated to include the newer heroes not available in PS4 version, like Bro Lee, Dirty Brorry and Tank Bro. And, if you have yet to play the game, it's available for less than half price in a new Sony Digital sale that runs from today until May 22.
PlayStation 4 Features
Added Presence text for various game situations
Added Play Together support
Performance
Improved overall frame rate of the game
Reduced load times of game levels
Fixed network lag and choppiness during gameplay
Gameplay
Added Dirty Brory, Tank Bro, and Bro Lee from the 4th of July update
Updated Snake Broskin to version 2.0
Changed number of rescues required to unlock Brocketeer and Snake Broskin
UX
Chat no longer blocks input for other local players
Pause Menu no longer blocks input for other local players in Multiplayer
Pause Menu items no longer appear in contexts where they can't be used
Added Loading text indicators
Added some additional localised text items
Added UI prompt for players to Press Fire to Join Game
Reverted back to the original Broforce font
Players can now use the L2 button to navigate back in menus
Players can now press the cross button to select a mission at the world map
Players can now exit Bro Select in Versus Mode
Improved the Kick Player Menu and Messaging
Added information overlays to better communicate game states
Reduced audio volume to be in the standardized "PlayStation 4" range
Misc
Decreased the download / install size by approximately 1 GB
Added Chat support to the Lobby
Added list of Online Players to Pause Menu
Bug Fixes
Fixed bug where Boomer enemy was rendering incorrectly
Fixed oversized text in endgame display in Versus mode
Fixed bug in Versus where negative scores were not displayed correctly
Fixed bug in Brodown where round ends prematurely
Fixed bug certain cutscenes would not be triggered, such as Bruiser and GR-666
Fixed layout of subtitles in end-game cutscene to ensure they aren't cut off
Fixed incorrect network synchronization of various level and game elements
Fixed end game sequence synchronization issues
Miscellaneous stability improvements
That's a lot of change! Also hidden at the bottom of the changelog was a sly tease about the next platform to see Broforce. It looks like we'll soon see the game on Nintendo's Switch – which is just about the most perfect platform for the game.
"Did someone ask for Broforce on Switch?" says the hint at the bottom. Yep, I'd triple dip for that.
Last Updated: May 8, 2018