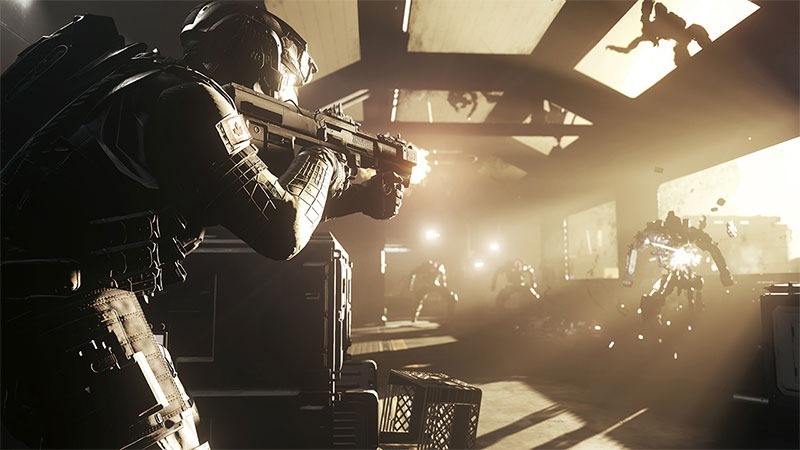 Call of Duty: Infinite Warfare is out tomorrow, the last of the great big blockbuster shooters to be released this year. Though other Call of Duty games have flirted with space, this one is largely set there. It can't be easy being part of at of the Call of Duty design teams. Change things up too much, and you could potentially alienate your existing, very large fan base. Don't innovate enough, and you're accused of copying and pasting.
There's a pretty fine line that has to be straddled. Anyway, this year, Call of Duty's big thing is that it spans the solar system. Instead of the straight linear mission structure, there are also side missions that allow you to earn upgrades for your soldier, and for your SPACESHIIIIIIIIP, the Jackal. I always enjoy playing through the game's single player, as it's usually pretty good popcorn entertainment for when I don't want to have to think. It's fun!
One of the things that many of the people who do actually bother with the single player do once they've finished the game, is try it again on the harder difficulties. I still have pretty fond memories of trying to finish up Modern Warfare on Veteran, which was both fun and frustrating.
Infinite Warfare ups the challenge by including a Specialist mode, which ramps up the difficulty significantly. It dispenses with Call of Duty's hide behind cover to heal system, with the only way to heal by using nano shots. Getting shot in the arms or legs hinders your movement and ability too, so it's tough.
You can only heal with Nano Shots, there is no health regeneration in this mode.
Helmets are your only protection from headshots. They will take permanent damage and will need to be replaced.
Both Nano Shots and helmets take up equipment slots, so remember to equip them in your loadout on the Retribution before each level.
Master the lean from behind cover mechanic, which will be critical for your survival. Approach the edge of cover while standing or crouching, and aim down sights when you see a chevron appear on the side of your crosshairs. You will auto-pop from behind cover as you ADS.
If you get shot in the legs, it will impact your movement. If you get shot in either arm, it will impact your ability to use equipment or aim down sights. Note: Your weapon can be shot out of your hands.
You'll need to finish the game first on any difficulty to unlock Specialist mode. And then, for those who're real masochists, there's YOLO mode. As its horrible name implies, you'll only get one life.
Yes, there's permadeath in Call of Duty. If you happen to die, you get to start all over.
Call of Duty: Infinite Warfare is out on the newer consoles and PC, tomorrow.
Last Updated: November 3, 2016