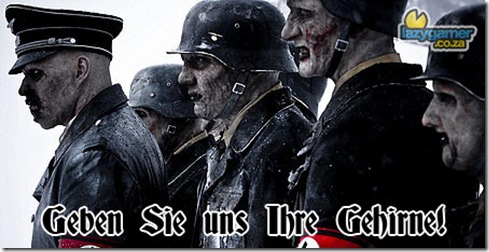 Call  of Duty : World at War will get its very first map pack come March. Four new maps – Three standard multiplayer and one for the game's ridiculously fun cooperative Nazi Zombie mode. Available for PC, PS3 and Xbox 360 the map pack will add add "Nightfire," "Station," "Knee Deep" and "Verrückt (Zombie Asylum)."
While there were many World at War naysayers – myself included – the game has proven to be mighty popular, even outselling Gears of War 2 on the Xbox 360.
No price point has been announced as yet.
Details of each map after the jump!
Nightfire
In "Nightfire," players take to the streets of a war-ravaged Berlin with only the flames of the burning city to expose the enemy.
Station
"Station" offers a bombed out underground train station littered with hidden passageways and destroyed subway cars.
Knee Deep
"Knee Deep" takes place in a once tranquil village turned chaotic Japanese command center.
Verrückt (Zombie Asylum)
The 4-player co-op Nazi Zombies Bonus Mode returns with "Verrückt," a terrifying Zombie asylum featuring more weapons, perks via the addition of Perks-a-Cola machines, electroshock defenses and the endless zombie horde.
Source : Kotaku
Last Updated: February 11, 2009