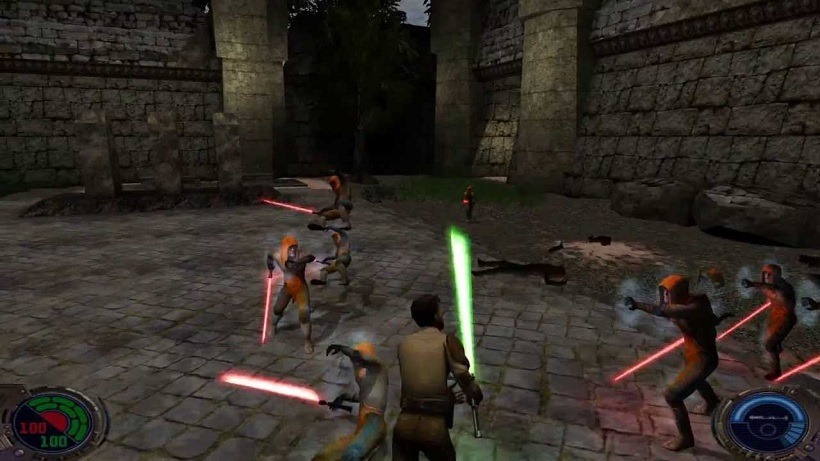 Star Wars might be prominent again in pop culture and films, but there's a sore lack of modern games making use of one of the most powerful IPs out there. Even today, on May the 4th, there's only really the likes of EA punting their middling shooter, Star Wars Battlefront, while reminding people that The Old Republic is still an MMO (maybe) worth giving a try. It's just not like the old days of Star Wars videogames, but you can relive them for a small fee.
In a bid to help celebrate International Star Wars Day, GOG have launched a massive sale on some classic titles from the franchise that have released over the past two decades. They come sold separately or bundled in two massive packs for your purchasing convenience, bundling together some of the best games from a host of genres. Here's all the goodness from a galaxy far, far away that you can spoil yourself with:
STAR WARS Shadows of the Empire
STAR WARS Knights of the Old Republic 2: The Sith Lords
STAR WARS: Knights of the Old Republic
STAR WARS: Jedi Knight – Jedi Academy
STAR WARS: Jedi Knight 2 – Jedi Outcast
STAR WARS Jedi Knight: Dark Forces 2
STAR WARS Republic Commando
STAR WARS: Dark Forces
STAR WARS Galactic Battlegrounds Saga
STAR WARS: TIE Fighter Special Edition
STAR WARS Empire at War: Gold Pack
STAR WARS Rebellion
STAR WARS: X-Wing vs. TIE Fighter
STAR WARS: X-Wing Alliance
STAR WARS: Rogue Squadron 3D
STAR WARS: X-Wing Special Edition
STAR WARS Starfighter
STAR WARS: Rebel Assault 1 + 2
If you're looking to save a few bucks though, you can choose between either the Blaster Bundle or Saber Bundle, which come with eight and nine games respectively. personally, I'm a massive fan of both Jedi Knight titles, and pretty much anything with the now non-existent Kyle Katarn in it. The true classics like Knights of the Old Republic are included too, as well as the best shooter than not enough people have played, Republic Commando.
If you're a Star Wars fan there's a small chance you haven't already played most of these. But for those poor outliers, you'll struggle to find a better deal on one of the best days of the year. Happy Star Wars day everyone!
Last Updated: May 4, 2016