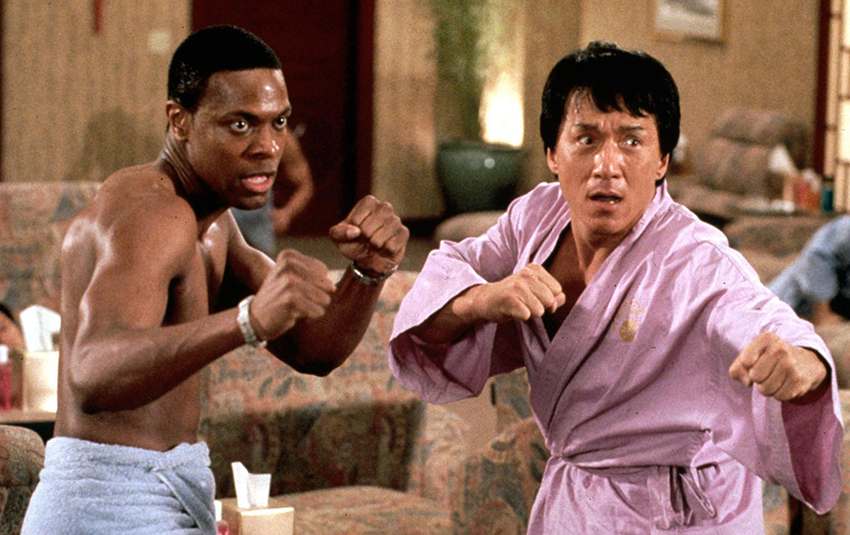 This past Sunday, one of my lifelong heroes turned 67. Yes, Jackie Chan is getting old. The celebrated Hong Kong martial arts action star is still pretty spry for his age though, but he's definitely slowed down a step based on his recent films. This means that any future projects probably needs to happen sooner rather than later if he still wants to deliver his trademark action-comedy on-screen authentically. Which is perhaps why, after years of minor rumbling, we're getting a tease for Rush Hour 4.
The tease came from Chris Tucker, Chan's co-star in the popular original trilogy of films released between 1998 and 2007. While the 47-year old Tucker didn't caption the image he posted on Instagram yesterday, the pic showed the two men with arms around each other's shoulders, each holding up four fingers on their hands. You don't need to be Sherlock Holmes to solve that clue.
The original saw Chan play stern Hong Kong Police Chief Inspector Lee who is forced to work with Tucker's fast-talking, streetwise LAPD Detective James Carter, when the daughter of a Chinese diplomat, a very good friend of Lee's, is kidnapped in Los Angeles. The respective 2001 and 2007 sequels would transplant the action from China to Paris, and the three films
would gross a combined $850 million worldwide at the box office. Since that last film, there has been talk of a fourth but nothing ever materialized.
One complicating factor is that the original trilogy was directed/produced by Bret Ratner, who was one of the many Hollywood filmmakers/execs accused of sexual assault during the height of the #MeToo movement early last year. More than half a dozen women – many of them very well known actresses like Olivia Munn, Ellen Page, and Natasha Henstridge – brought to light some grievous allegations against him with others stepping forward to corroborate the claims. In response to this, Warner Bros – parent company of franchise distributor New Line Cinema – cut all ties with Ratner and his RatPac production company. He's essentially been persona non grata ever since in the upper Hollywood circles, so chances are almost non-existent that if Rush Hour 4 ever gets made it would be with Ratner at the helm.
And as Chan told Power 106 Los Angeles during an interview late last year, he and Tucker had also been turning down many different script proposals over the years which just didn't meet their standards. However, it would seem that they finally have something they like, and they can't wait too long to make it happen as they're not getting any younger.
For the last seven years, we've been turning down the script, turning down the script. Yesterday, we just agreed… the script, probably end of this month. They're on the second draft. Next year, probably start. I hope. If Chris Tucker agrees.

It's not about money. It's about time to make, otherwise… Rush Hour 4, we're all like old men! Before we get old. I tell Chris Tucker, before we get old, please, do Rush Hour 4!
Based on Tucker's social media post this week, it definitely looks like he has agreed. There's no other real concrete info on this, so chances are it could still fall apart. I've got a sneaking suspicion though that if the early buzz on currently in-production Bad Boys For Life – which sees Will Smith and Martin Lawrence reprise their own late-1990s/early-2000s action comedy franchise – looks good, that it will probably inspire the filmmakers on Rush Hour 4 to put a rush on it as well.
Last Updated: April 9, 2019