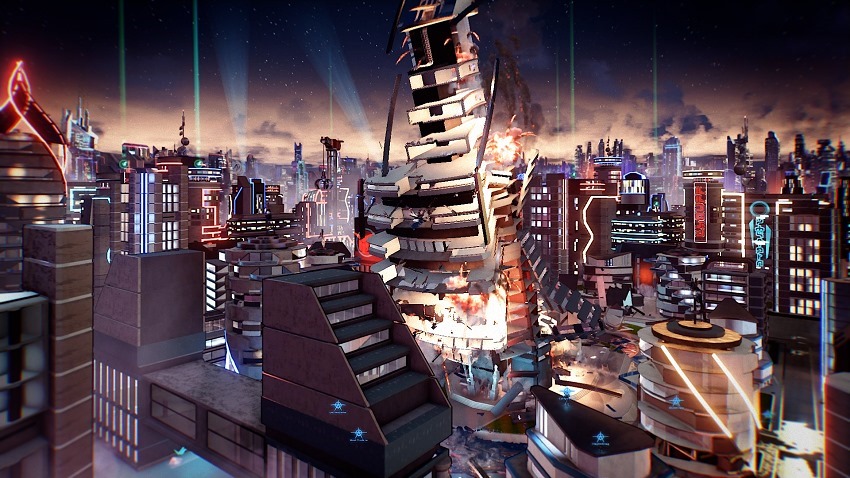 Crackdown 3 has been stewing in the pot for years now, as Microsoft attempt to bolster their first-party library with some names people might still fondly remember. The game was previously pushed out of 2016 thanks to a busy fall schedule, and it seems Microsoft is using the extra time to position the title as a marquee Scorpio release. And with details about the new console coming tomorrow, it makes sense that we'll hear more about Crackdown 3 soon too.
Spreading the news via Twitter, Crackdown 3 is set to get a lot more in your face over the next couple of months, hopefully showing off a lot more gameplay, features and a release date. Crackdown 3 has been missing from Microsoft's conferences for a while now, with only glimpses of gameplay here and there. We last saw it during Gamescom 2015, where Microsoft was still pushing the potential of cloud computing hard.
2017 is shaping up to be great! #Crackdown3 info is on the horizon, and we're ready to bring the boom! pic.twitter.com/l59odUKSsH

— Crackdown (@crackdown) 4 April 2017
Asked whether this news was meant to coincide with the Scorpio specifications reveal happening tomorrow, the account didn't seem too aware that was happening. Despite that, they reiterated that news for the exclusive would start rolling out over the coming months, which just so happens to include E3 in it.
Crackdown originally launched on Xbox 360 and was a game ahead of its time. Its sequel was far less stellar, and put the series on the backburner for years. Crackdown 3, with its glowing neon aesthetic and highly destructible environments, could be the follow-up to the original fans like me have been waiting for. If Microsoft ever get around to actually launching the thing.
It's meant to drop on both Xbox One, PC and whatever Scorpio ends up being called.
Last Updated: April 5, 2017