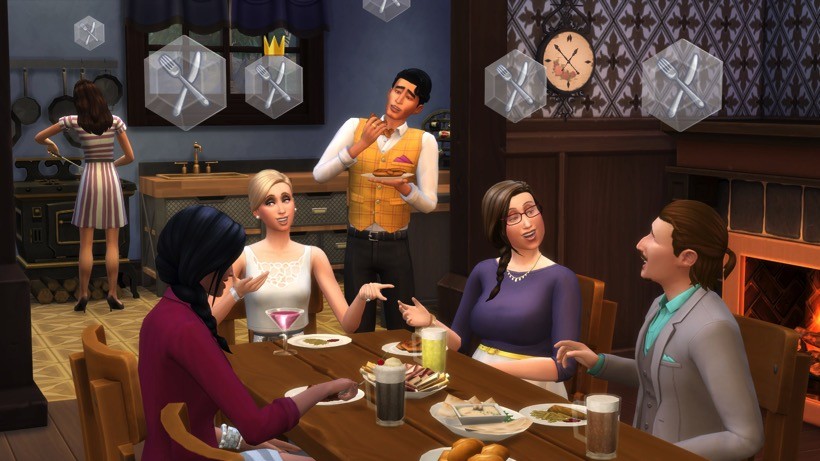 The Sims 4 is getting an all new expansion next month, including a whole new city that I am still having a hard time convincing my phone is called Windenburg and not the name of that ill-fated airship that went boom in 1937. The second proper expansion pack for the popular life simulator will include the aforementioned European inspired new world, as well as feature a whole new social experience for your little computer minions.
Clubs. Nope, not just that place young people take their ears and musical tastes to die. The Sims 4: Get Together will allow you to create or join clubs, a gathering of like minded enthusiasts who can get together and do club-like things.
Want to start a club of fitness freaks that hangs out at the local gym and is barred from mingling with members of the local Foodies Brotherhood? You can. Or create a Romance club, where all forms of romantic rendezvous' are welcome, except doing the woo-hoo with a fellow club member? You can do that, too.
The Club creation bit got me all excited for this pack. Over and above naming your own club, players can choose the attire Sims will wear to Club gatherings. High-end foodie clubs might want to go for a more formal approach, or if you feel inclined, have them all dress up in hot dog costumes. Rocking up at a gathering ignoring the dress code could lead to some serious social faux pas.
There are a myriad other options for customization. You can decide the hangout. Is it the local gym? A cafe? Or the Ancient Ruins? Or perhaps impose some club requirements: Who can join your club? Are children allowed? Must they have certain traits? Sims with a low level art skill may not be able to join the local Art Shebang for example.
With over 100 activities to choose from, club members can be encouraged to tell jokes, play an instrument or dance the night away. Doing club activities earns you club points, which can be used to unlock certain Perks, like Secret Hand Shakes or Club Vibes. Club Vibes will bestow certain emotions on Sims visiting your hang out.
And then the flip side: you decide what activities your Sims are not allowed to partake in. You can ban your club members from swimming with members of another club. Or maybe your epicurean delights can't be shared with those from a rival foodie club.
I am looking forward to hand over my hard earned Rands for this expansion. Will it be one of the better Expansion packs, and will it bring a lot of new stuff to the kitchen table for Simmers to drool over? Entice a few players back and keep the old faithful among us Simming? Or will it take more than a secret handshake and a European-themed city to reignite the Sims addiction?
Last Updated: November 23, 2015