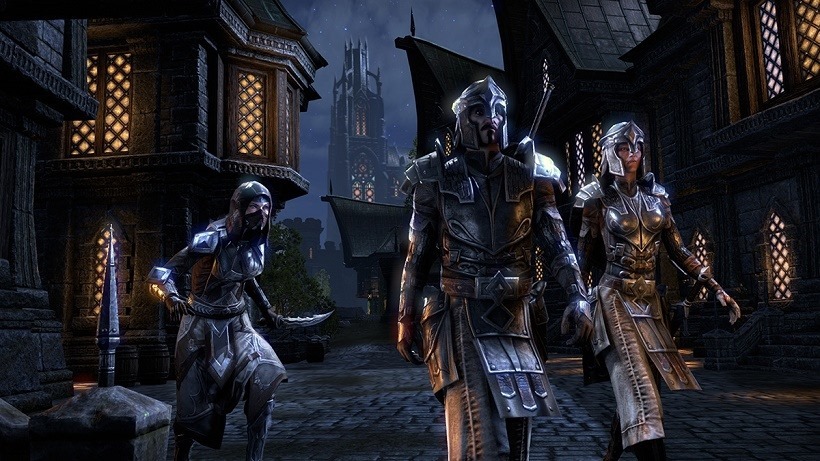 When I reviewed The Elder Scrolls Online back in April 2014, it was, well, it wasn't pretty. Sure, the game was gorgeous, and had some excellent features working in its favour, but the bugs… oh those bugs! They ruined my entire experience, and basically chased me away from playing the game ever again.
Thankfully, a lot has changed since then. The Elder Scrolls Online has now been patched to pieces, no longer has a subscription, and even has had two bits of DLC (The Imperial City and Orsinium) released to keep players coming back for more adventuring minus an arrow in the knee (sorry I couldn't resist).
And now, it's due for even more content. Are you ready to join the Dark Brotherhood? Here's what the new upcoming DLC is all about (via VG247):
The Dark Brotherhood is looking for a few good killers. Explore the Gold Coast and discover if you have what it takes to join the ranks of Tamriel's master assassins in the Dark Brotherhood DLC game pack. From the port city of Anvil to the Great Cathedral of Kvatch, the business of the Brotherhood consists of murder and mayhem—and business is good! Join the Brotherhood, enter the Sanctuary, and accept your first contract from the mysterious Speaker. Kill well, assassin!
If you're interested in getting in on all the sneaky action, the Dark Brotherhood DLC can be purchased in two ways. You can grab it by either having an active ESO Plus membership, or you can cough up 2000 crowns in the ESO Crown Store. If you'd like to splurge a little more, there's a collector's bundle which costs 4000 crowns. It'll come with the DLC, a Highland Wolf Mount, a Sylvan Nixad pet, and five crown experience scrolls.
The Dark Brotherhoold DLC will be out on May 31st on PC, and both the Xbox One and PlayStation 4 two weeks later, on June 14th. If you'd like to get in on the action a little early, all this content is available right now, on the ESO Public Test Server.
Are you still playing The Elder Scrolls Online? Are you excited for all this new assassination action? I know I would be, if I actually played the damn game!
Last Updated: April 26, 2016