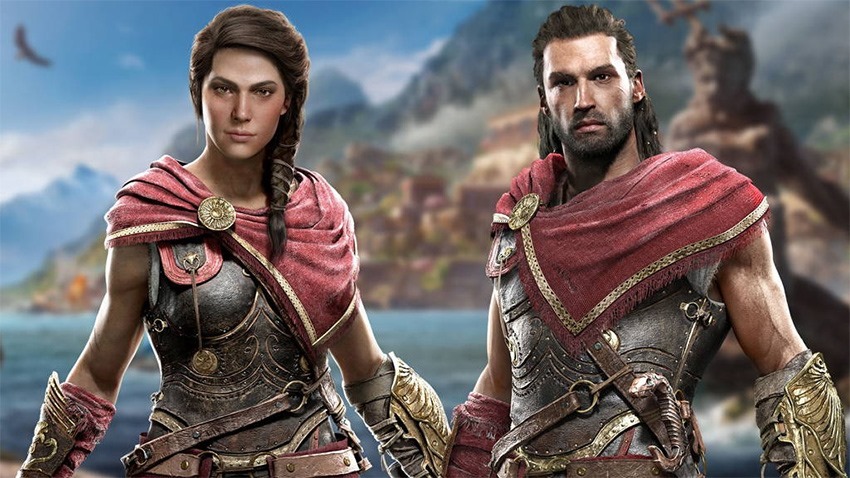 Assassin's Creed Odyssey is a marvellous game, that anybody with an interest in sprawling, epic RPGS should play – even if they're not necessarily Assassin's Creed fans. The game goes all in on the RPG aspects that have been introduced over the years. It's starting to feel less and less like an AC game, less bogged down by that series' lore. I'm entirely okay with that, because it's resulted in a better game.
Not only are players able to choose their player characters, but they're also able to make dialogue and romance choices that can have far-reaching consequences with the game and its world. Many have drawn parallels to the varied, superlative questing from The Witcher 3, and it's a worthwhile comparison. Dynamic quests ties into each other, consequences on some entirely skippable side quests carry though, and main characters can be killed. It doesn't quite reach the storytelling highs of the Bloody Baron, for example – but after the 50 or so hours I played I definitely came to regret a few decisions. Once I have free time, I plan on spending another 50 hours conquering the Aegean.
The game is out tomorrow for most, though some of you who ordered the fancy digital editions got a few days head-start. To celebrate its release, here's the game's launch trailer, which ask you to Defy Fate.
BECOME A LEGENDARY SPARTAN HERO
Embark on your journey from humble beginnings to living legend as Alexios or Kassandra. Customize your gear, upgrade your abilities, and personalize your ship on your path to becoming a Spartan hero.
ANCIENT GREECE AWAITS
From the heights of snowy mountain peaks to the depths of the Aegean Sea, explore an entire country full of untamed environments and cities at the peak of Greece's Golden Age. Unexpected encounters will breathe life into your story as you meet colorful characters, battle vicious mercenaries, and more.
CHOOSE YOUR OWN PATH
Your decisions shape the world around you with over 30 hours of choice dialogue and multiple game endings. Experience a living, dynamic world that constantly evolves and reacts to your every decision.
FIGHT EPIC BATTLES
Show off your extraordinary warrior abilities and shift the tides of battle during one of the deadliest conflicts of the time, the Peloponnesian War. Charge into epic clashes between Sparta and Athens in big battles pitting 150v150 soldiers against each other.
SAIL ACROSS THE AEGEAN SEA
Find uncharted locations, uncover hidden treasures, or fight your way through entire fleets in naval battles. Customize the look of your ship, upgrade weaponry to suit your strengths, and recruit crewmembers with unique perks, tailoring naval combat to your style.
A LAND OF MYTHS AND LEGENDS
Discover a world rich with myths and legends. From ancient rituals to famed statues, come face to face with Greece's legendary figures and discover the true nature of mythological beasts like Medusa and the Minotaur.
Those of you already playing it…thoughts?
Last Updated: October 4, 2018