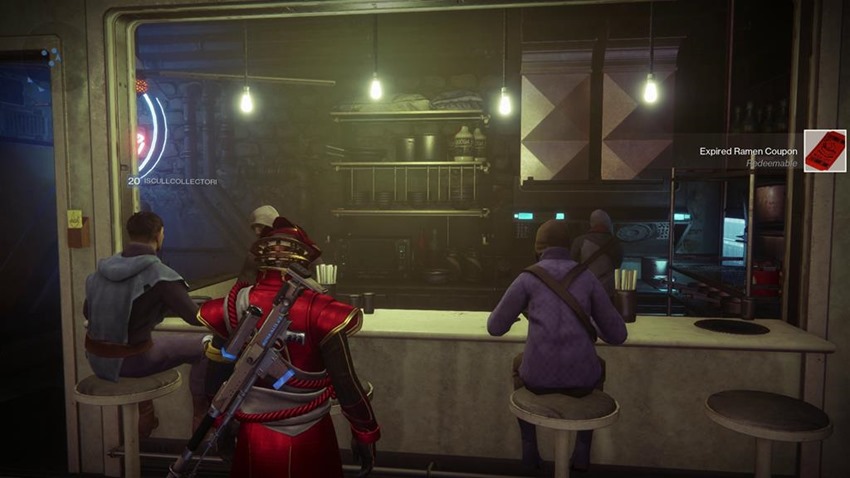 Update: Looks like that Ramen coupon is nothing more…than a ramen coupon with some interesting lore. Have fun!
Regarding the Ramen quest:

Cayde-6 has left you a coupon. It may be expired, but it's the thought that counts. Read the lore tab on the coupon for more.

There are no further steps to this quest. Nothing at reset, nothing requiring other items, keys, or activities.

— dmg04 (not @ gamescom) (@A_dmg04) August 22, 2018
We've breached the void of the Ascendant Realm and defeated the Hive with their own Sword Logic. We've slain gods in the heart of the Black Garden. We've rekindled a light that we thought was stolen from us when Dominus Ghaul stripped us of our very meaning. And yet, there is something else that drives Guardians to dangerous new heights and even greater glory. This damn expired coupon for some spicy ramen that I picked up in the Last City last night: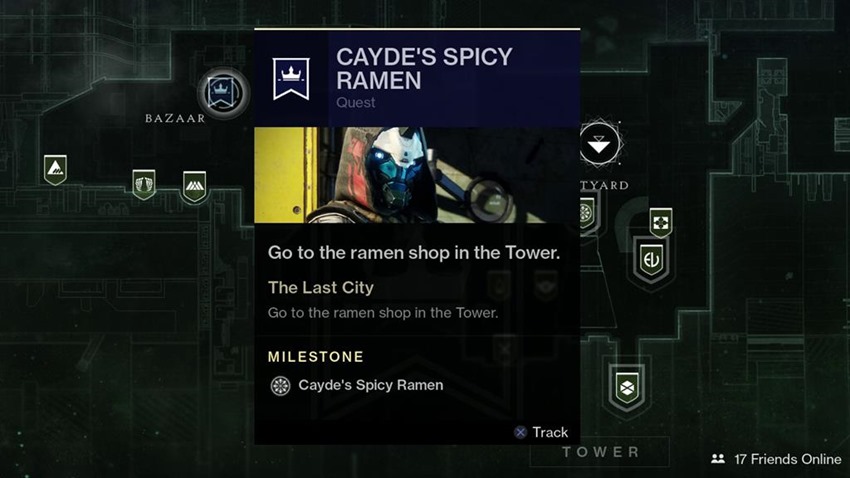 So what does it do? Unlock the greatest mysteries of the universe, such as the location to Destiny 1's actual story? Does it bestow upon a Guardian enough strength to help them carry their entire team through an Iron Banner match like they usually do? Is it the key to finally defeating the greatest evil in the Destiny Universe, the Eververse shop?
Who knows, because so far players have picked up the coupon…and nothing has happened. Like Destiny's greatest mysteries, this single item has sent Guardians across the globe on a hunt for more clues. Does the lore of the voucher contain clues to ingredients that need to be picked up? That's the one working theory, as players have been visiting the Farm, searching the remains of ruined buildings in the Homecoming mission and checking if any of Cayde's stashes that are hidden across the soalr system contain some ingredients that are muy caliente.
So far, nothing has been figured out. Reddit user Ash of Hyrule has a theory however, one that requires waiting for a certain Agent of the Nine to show up on Friday: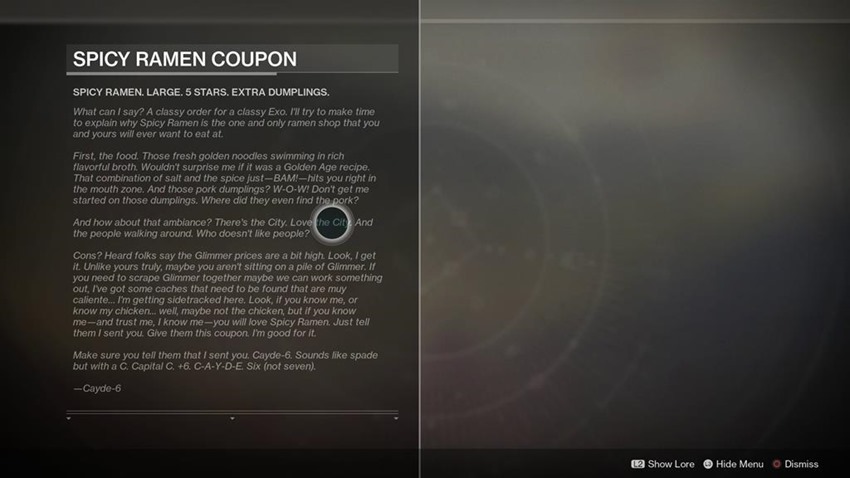 In light of most theories already disproven, I kept suggesting it's to do with Xur.

So I just checked several Destiny 2 DB's for new items added.

On light.gg I searched Spicy Ramen and found 4 results, the quest, the coupon, and the Exotic emote; TWICE.

Emote 1: https://light.gg/db/items/292778444/spicy-ramen/

Details: "Introduced in Season 1 Instance Item Can't be Equipped Part of Season 1 Set API ID: 292778444"

However,

Emote 2: https://light.gg/db/items/95537029/spicy-ramen/

Details: "Introduced in Season 3 Instance Item Can't be Equipped Part of Season 1 Set API ID: 95537029"

The first one indicates the Eververse Bright Engram drop which was "Introduced in Season 1" and has not been sold since.

The second one indicates Spicy Ramen the emote has been added back during Warmind as it reads "Introduced in Season 3"

This same data does not exist for other emotes.

It's possible we take the coupon to Xur to get the Spicy Ramen emote if we don't already have it.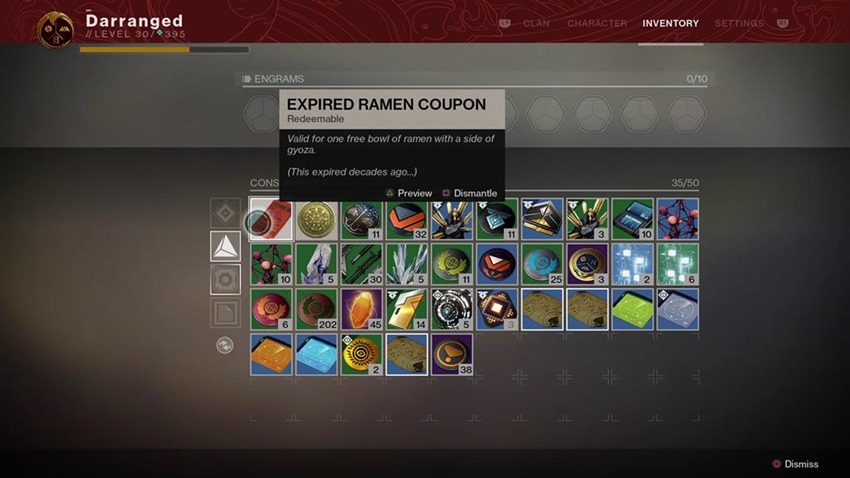 Maybe he's right, maybe he's wrong because Bungie has tighter lips than a Venusian Vex Harpy right now on the matter. The Vex don't even have lips, that's just how secretive Bungie is right now. Whatever the end result of this quest truly is, I just hope that it doesn't end up being all for nothing. The last thing I need right now ahead of the Forsaken expansion is a real-life Nightfall strike that has a Solar burn modifier in play.
Last Updated: August 23, 2018