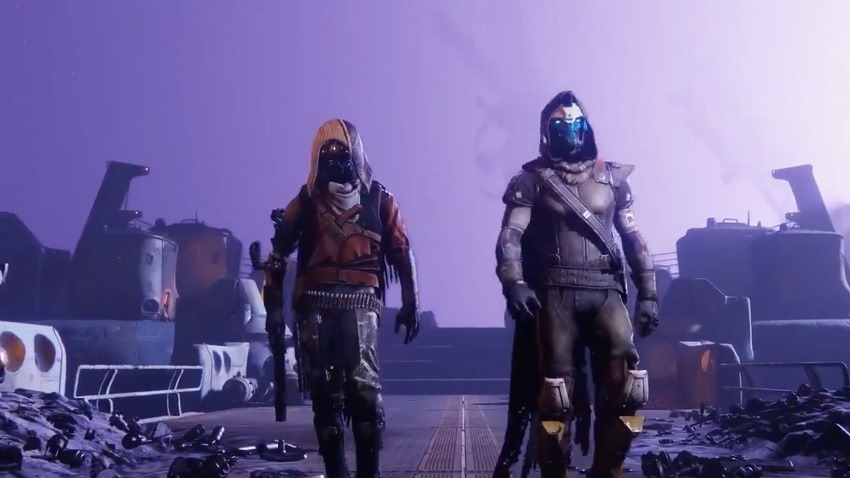 Well it's about damn time.
I mean sure, E3 will probably have a few dozen surprise reveals this week (unless the number one source for breaking video game news Wal-Mart gets there first), but why wait? Why not take advantage of the Pre-E3 buzz and fling one or two announcements at our faces this week instead? That's the plan with Bungie, as the Destiny 2 developer gets ready to lay down some talk regarding year two of the sequel.
What's in store? Well here's one snippet of information to digest thanks to Bungie tweeting a tease: Destiny 2's next big expansion is called Forsaken, and it looks like it'll have a Fallen-centric theme to it as players return to The Reef. Also, why is everything in Destiny named as a "The". It's weird.
Drop in for the reveal of the second year of #Destiny2.

Join us on June 5 at 9am PT.https://t.co/Yy9bCmu6dN pic.twitter.com/vc1IzHIqp9

— Destiny The Game (@DestinyTheGame) June 4, 2018
Right, so what information can we parse from that tweet above? Let's look at the facts, Jack. In the original Destiny, the Awoken were introduced as mankind's haughty solar system neighbours who had formed their own city in the near the rings of Saturn and basically spent their time looking down on everyone and bottling their own farts. So kind of like Space Cape Town then.
In The House of Wolves expansion, the Awoken were betrayed from within by the Fallen house that they had subjugated generations earlier, leading to a bounty hunt that saw Guardians track down and eliminate the traitors. In The Taken King, The Awoken and The Reef colony was utterly decimated in the opening salvo by Oryx and his Taken forces, with many believing that Queen Mara Sov had perished.
While her body was never found, Mara Sov's absence was still felt by the Awoken while her brother Prince Uldren searched for clues to her location while also embarking on a secret mission of his own to raise an army. Between the Taken King War and the Red War, Humanity and the Awoken have a lot in common as each powerhouse in the solar system finds themselves on the brink of collapse.
Maybe it's time for an alliance to be formed, to strike back at the remaining Fallen houses before it's too late? I guess we'll find out tonight when Bungie kicks off the stream at 9 AM PT/18:00 CAT.
Last Updated: June 5, 2018