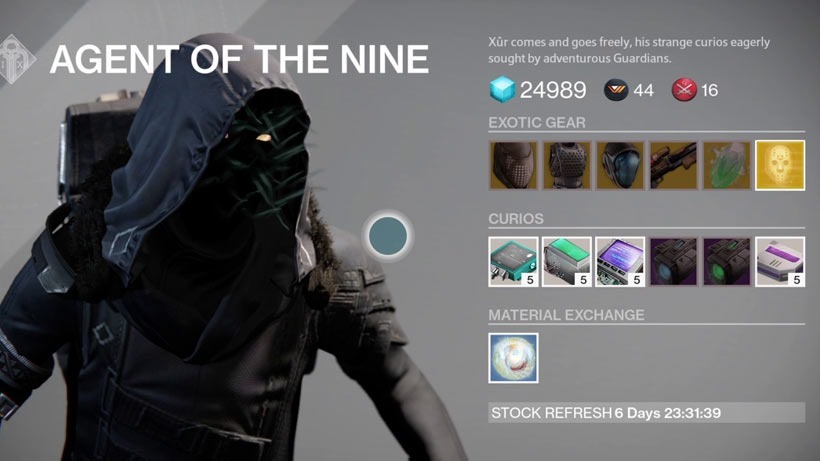 I hate to interrupt your current candy binge in Destiny, but…Actually wait, I kind of enjoy doing that. Anyway! Everybody's favourite Agent of the Nine is back, just in time for the Festival of the light. Will he be packing some legendary and exotic candies in his TARDIS of a satchel? Let's find out!
This week, you can find Xur hanging around the tower, opposite Lord Shaxx as you make your way to the Vanguard mentors.
Here's what Xur has for sale this weekend. I hope you saved your Strange Coins:
The Taikonaut – Exotic Helmet – 13 Strange Coins
Graviton Forfeit – Exotic Helmet – 13 Strange Coins
Alchemist's Raiment – Exotic Chest Armour – 13 Strange Coins
Zhalo Supercell – Exotic Autorifle – 23 Strange Coins
Legacy Engram – Exotic Special Weapon – 31 Strange Coins
You've got until 9AM GMT on Sunday morning to earn some Strange Coins. Remember, Strange Coins are much easier to get your hands on lately. Just do a few daily bounties, encode a few engrams and you'll have more than enough for when Xur arrives on Friday. Have fun shopping!
Last Updated: October 30, 2015