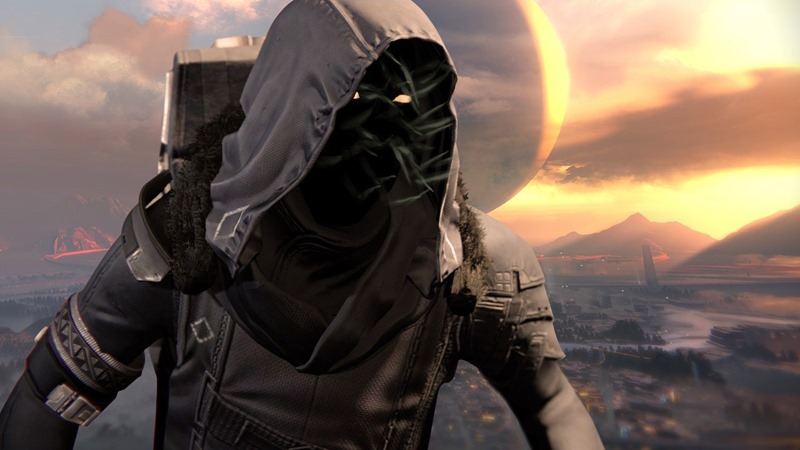 You've had a week and a half in the Plaguelands. By now, you've conquered the threat of SIVA, laid the lost Iron Lords to rest and dealt with the Wrath of the Machine. What's a Guardian supposed to do next then huh? Look for Xur of course. Everybody's favourite Agent of the Nine is back this week, hopefully with some new exotic goodies.
Last week's Rise of Iron debut from Xur brought with it a treat for Warlocks: Exotic boots that went by the name of Transversive Steps. Utterly brilliant, these boots allow Guardians to instantly refill their magazines when they walk over ammo pick-ups. And in an Archon's Forge situation where ammo is scattered everywhere, that's kind of handy.
This week, you can find Xur hanging out at the pub under the ship seller in the Tower.
Here's what he has for sale:
The Armamentarium – 13 Strange Coins
Sealed Ahamkara Grasps – 13 Strange Coins
Voidfang Vestments – 13 Strange Coins
Mida Multi-tool – 23 Strange Coins
Legacy Engram:  Leg Engram – 31 Strange Coins
Three of Coins – 7 Strange Coins
Heart of Gold Ornament – 25 Silver Dust
Iconoclast Ornament– 25 Silver Dust
You've got until 9AM GMT on Sunday morning to earn some Strange Coins. And you can quote me on that. Remember, Strange Coins are much easier to get your hands on lately. Just do a few daily bounties, decode a few engrams and you'll have more than enough for when Xur arrives on Friday. And for the Traveller's sake, stop talking so loud already.
Plus, with the way that engrams have been dropping lately combined with all those new missions and quests, you should have plenty of Strange Coin to spend at Xur this weekend. Have fun!
Last Updated: September 30, 2016