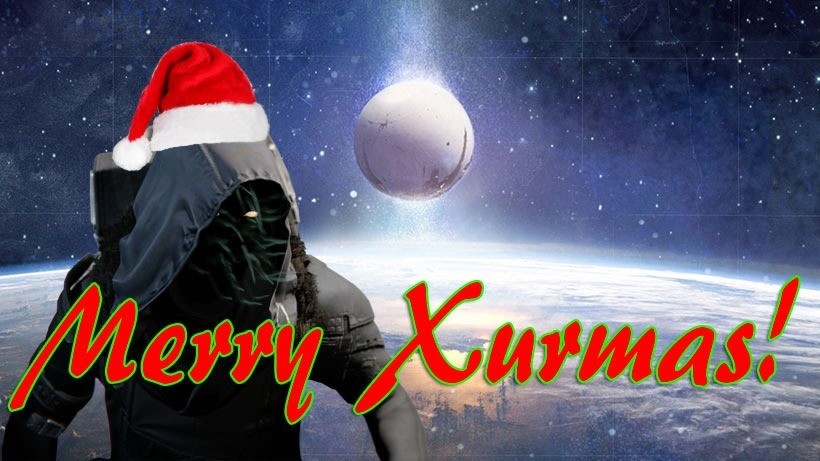 Merry Xurmas! Not even Christmas can stop Destiny! Right now, you've unwrapped gifts, filled with your belly with an acceptable meat for your chosen holiday and you're grateful that your folks bought you pants with an elastic waistline as your belly slowly readies itself to trip the gut fantastic.
And that's cool! It's that time of the year to hang back with loved ones and realise just how lucky you really are. Baldercrap! What's really important, is seeing what goodies ol' Santa Xur has for sale. So here he is ladies and gents. Here's saint Xur, ready to throw some guns at yo face.
This week, you can find Xur hanging around the Tower, near the Speaker.
Here's what he has for sale:
The Armamentarium – Titan chest armour – 13 Strange Coins
Bones of Eao – Hunter leg armour – 13 Strange Coins
The Ram – Warlock – 13 Strange Coins
MIDA Multi-Tool – 23 Strange Coins
Legacy Engram – Heavy Weapon – 31 Strange Coins
Three of Coins – 7 Strange Coins
You've got until 9AM GMT on Sunday morning to earn some Strange Coins. Remember, Strange Coins are much easier to get your hands on lately. Just do a few daily bounties, decode a few engrams and you'll have more than enough for when Xur arrives on Friday. Have fun shopping! And save some room for desert, ya hear?
Last Updated: December 25, 2015