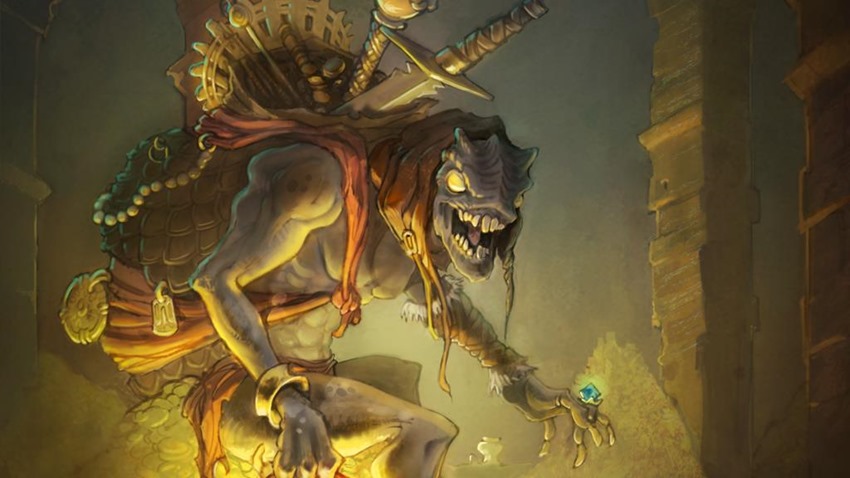 That box of Skylanders you've got may be more useful as a glorified paperweight now that the Toys to Life genre has essentially folded, but Nintendo's Amiibo figures are still going plenty strong. Part addictive collectable craze and part gameplay-enhancing physical extra, Amiibo figures are usually highly sought-after items that spend more time on a shelf than near an NFC reader on your Nintendo console of choice.
Which honestly, I'm fine with. I'm not in a rush to jump down that cash-hungry rabbit hole of collecting again, but it' hard to deny just how well-designed and crafted each individual Amiibo is. I'm thinking of breaking that oath to refrain from Nintendo's collectible clutches, as next week's Diablo 3: Eternal Collection on the Switch has revealed a new addition to the merch library: An adorable Loot Goblin.
Where there are goblins, there is treasure to be found! Summon your own portal to untold riches with the exclusive #DiabloSwitch Loot Goblin amiibo – available Dec 2018! pic.twitter.com/jLe4vMmkcH

— Diablo (@Diablo) November 1, 2018
Dammit, that is devilishly cute. While the figure itself is basically a repaint of the Cute But Deadly Treasure Goblin vinyl toy that was released in 2016, that new coat of paint and an Amiibo base makes it pop beautifully. Or if you needed a Simpsons reference as to why fans are going gaga for it, here ya go:
Here's the catch: You probably won't be able to get your hands on the Loot Goblin unless you're willing to jump through a few hoops. An exclusive to US-based GameStop stores, the figure will set you back $15.99, which according to my eBay calculations of supply and demand means that a single imported figure will probably come to…R6 Trillion. Citation possibly needed. Heck, I don't even know what the Amiibo will do, but I'd assume it has something to do with opening up portals like the original critters are capable of doing.
It's going to be a good weekend for Blizzard fans though! BlizzCon 2019 kicks off, and while Blizzard says that there are no plans to announce Diablo 4, there will be some Diablo news.
Last Updated: November 2, 2018