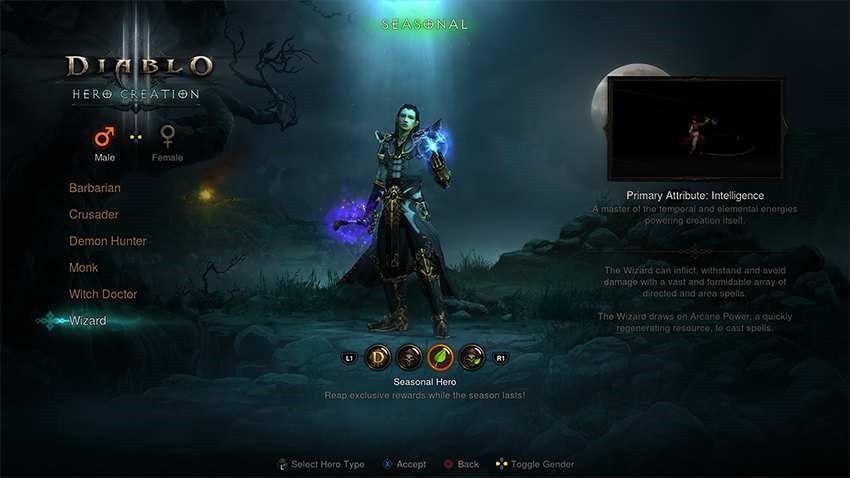 The console version of Diablo III is superior – largely for the inclusion of split-screen couch-coop, and active controls. If there is one area where it's much, much worse than on PC its in support. The game's largely been neglected on everything but the PC. It's been three years since the introduction of Seasons, which are still absent from the console versions of the game.
That's changed though, and update 2.5 finally brings Seasons – which are just about the only reason to still play Diablo III – to consoles.
What are Seasons? Let Blizzard explain:
"Seasons are a fresh way to experience the game as though you were playing it for the first time—complete with rapid character leveling and gear upgrades. While a Season is active, players can create characters that are separate from their current non-Seasonal characters."

"Your first character in a Season will start completely from scratch. Each additional Seasonal character can only share progress with this character. When the Season ends, these characters will become non-Seasonal and any items, progress, or Challenges they've earned in the Season will be available to non-Seasonal characters."
Okay then! It's been a while since I fired up Diablo – but I'm not sure the late introduction to seasons is enough to pull me back in. That's a grind I think I'm done with.
The first season for consoles (and the 10th for PC) kicks off on Friday 31 March, and will grant access to the following class sets as reward, should you be up to their challenges:
Barbarian – The Legacy of Raekor
Crusader – Armor of Akkhan
Demon Hunter – Embodiment of the Marauder
Monk – Inna's Mantra
Witch Doctor – Zunimassa's Haunt
Wizard – Delsere's Magnum Opus
Patch 2.50 is live right now, and makes a few other changes, including adding the much requested armoury.
Saving a build in the Armory will snapshot your character's current gear, socketed gems, active and passive skills, and Kanai's Cube powers
Equipping a saved armory build will automatically swap items and gear between the character and stash
The new patch also moves crafting materials to its own stash, freeing up space in the shared one.
Last Updated: March 23, 2017