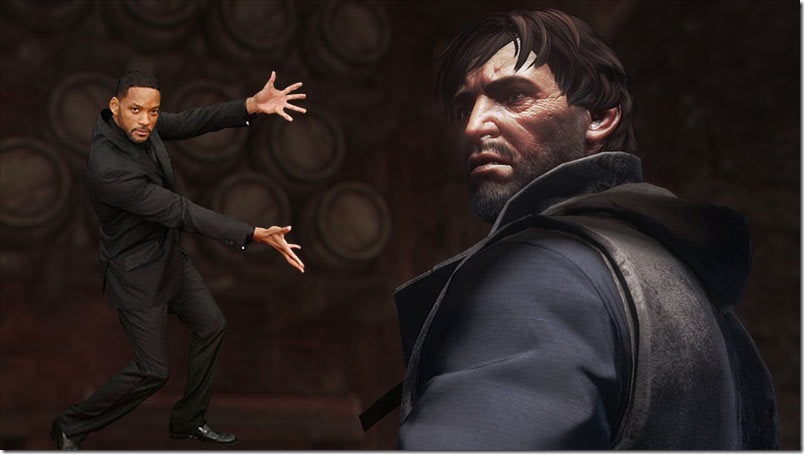 Dishonored 2 was one of my favourite games this year. It was slow to start, but once it hit its groove it was a wonderwork of intricate and profoundly clever design. I've played through it very nearly twice now – but I've now got a reason to jump back in.
We told you previously that Arkane was readying up patches to give the game a new game plus mode, but it's actually a little more robust than we'd anticipated. New game plus won't just let you carry on a new game with your existing powers n tact, it'll let you switch characters too.
"Dishonored players have asked for it, so now New Game Plus is here for Dishonored 2," says Creative Director Harvey Smith. "If you've ever wanted to make higher-powered characters, now's your chance. If you've wanted to play Emily Kaldwin with Possession or Devouring Swarm, or Corvo Attano with Domino, now you can. We've been having fun with it here at Arkane Studios, and we hope you will too."
You'll start your new game with all of the runes and bonecharms you collected previously – only you can reassign them as you please. It's available on PC now, and will be hitting the other platforms on December 19. The PC version was a bit of a mess when it was released, but regular patching means the game is worth playing on that platform now.
There's another bi patch coming soon that will let fine-tune the difficulty setting to suit your playstyle.
To sum:
GAME UPDATE 1 RELEASE NOTES
New Features
New Game Plus mode!
New Quick-Access Wheel option for hiding/unhiding items
Improved Features
Fixed Oraculum false-kill count in Royal Conservatory
AI detection tweaks to clarify when players are detected or not
AI locomotion improvement for running
Fixed various Bonecharm effects (Strong Arm, Spiritual Pool, etc)
Fixed a problem in slow-motion where some inputs were ignored
Blood Thirst: various enhancement and fixes
Killing an NPC with their own bullet is now more reliable
Tweak for mana potion refill speed, depending on difficulty
General performance and optimization improvements
Fixed various game logic issues
Fixed various User Interface issues
Last Updated: December 15, 2016