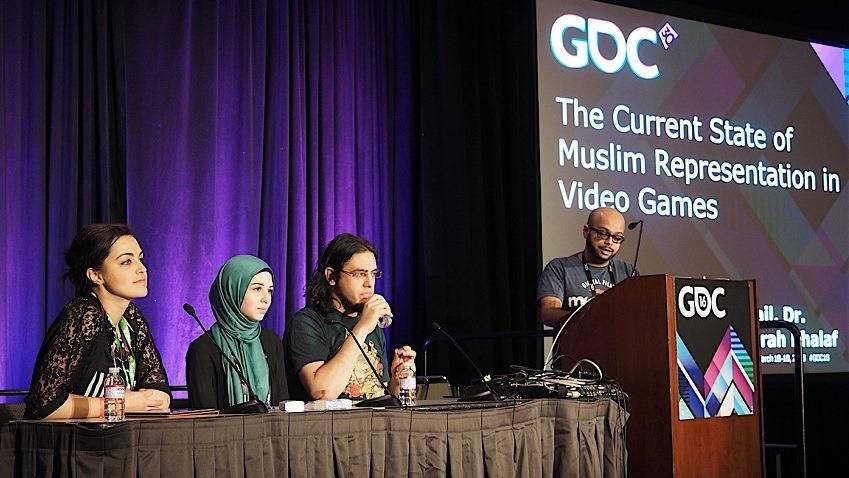 Last Friday US President Donald Trump signed an executive order that has had widespread ramifications for both legal citizens of the United States of America, and those potentially hoping to visit the country in the near future. The order bans entry to the United States for the next 90 days to persons from seven predominantly Muslim nations: Iran, Iraq, Libya, Somalia, Sudan, Syria and Yemen, among other things.
Movement to the United States by people with any sort of background or connection to these countries will now prove unpredictable and difficult, which has made this years GDC is far more complicated matter.
The annual conference for the world's best and brightest video game professionals from around the globe is set to kick off in less than a month, and marks the only conference under the banner after GDC Europe was cancelled not too long ago. It's arguably the one conference every game developer needs to attend, and attracts hopeful designers, artists and developers from all corners of the globe for a few days of collaboration, sharing and, most of all, the celebration of games that will shape the coming years.
Over the past couple of days, that has changed for the worse. While the majority of GDC attendees will find no resistance in attending the event, there are already a few pockets of developers expressing concern over making the trip or outright cancelling it. Rami Ismail, co-founder of Nuclear Throne developer Vlambeer, says there are already five developers he personally knows who will no longer make the GDC trip.
Due to the #MuslimBan, I'm working with 5 talented devs that all were coming to GDC, but can't or don't dare to anymore. It breaks my heart.

— Rami Ismail (@tha_rami) 29 January 2017
Shahid Kamal Ahmad, PlayStation's former director for strategic content and now a developer in the UK, added by saying he would no longer attend GDC due to fears over the ban.
Given the current confusion, until the US position is clear, I won't be going to #GDC2017

— Shahid Kamal Ahmad (@shahidkamal) 28 January 2017
I'm sure the organisers of GDC, E3, WWDC etc. are mortified that their conferences are no longer global, and held behind a Racist Curtain.

— Shahid Kamal Ahmad (@shahidkamal) 29 January 2017
Lual Mayen, a South Sudanese game developer who I had the pleasure of meeting at A MAZE in Johannesburg last year, will also possibly not be able to reach GDC anymore. A little closer, local games developer and Wits Game Designer graduate (and friend of mine) Ahmed Elgoni will also have to give up on attending his first GDC, since he was born in Sudan.
@Fengol yeah I'm ok 🙂 I was going to go to gdc this year but now I can't because of the executive order trump signed

— Ahmed Goni (@stray_train) 29 January 2017
These are just a few of the many cases GDC is now having to grapple with, with the conference itself make a short statement ahead of a longer one due this week. Right now, GDC is refunding attendees who will no longer be able to make the trip. It doesn't make up for missing the conference itself (and the money spent on flights and accommodation), but it's all the conference can do right now.
GDC is a global community – we're horrified by the #MuslimBan. Of course we'll refund affected attendees, and keep fighting for inclusivity.

— Official_GDC (@Official_GDC) 29 January 2017
While protests continue on the ground in Washington, Seattle and more cities around the United States (and several outside of the country), some smaller initiatives by developers also managed to circulate some support over the weekend. The aforementioned Vlambeer started a 24-hour sale on Sunday, with all proceeds aimed towards a donation for the ACLU – the legal body at ground zero who won a stay that protected citizens who had already landed or were in transit when the executive ban was issued.
Thanks *SO* much to everybody that dropped by our PAX South booth today to support the @ACLU, some of you without any idea what Vlambeer is.

— Vlambeer (@Vlambeer) 30 January 2017
Halfway done tallying @Vlambeer's 24 hour revenue for @ACLU, & we're already past $10K. On behalf of @jwaaaap & me, thank you all so much.

— Rami Ismail (@tha_rami) 30 January 2017
Playdots Inc, the company behind the incredibly popular mobile titles Dots, Two Dots and Dots & Co, rallied over the weekend to add in a splash page urging players to also donate to the ACLU during the initial hours of the ban. The game's developers spent Saturday adding in and localising the donation link, with co-founder Paul Murphey saying that around 250 000 people had clicked through to the ACLU page as of yesterday evening.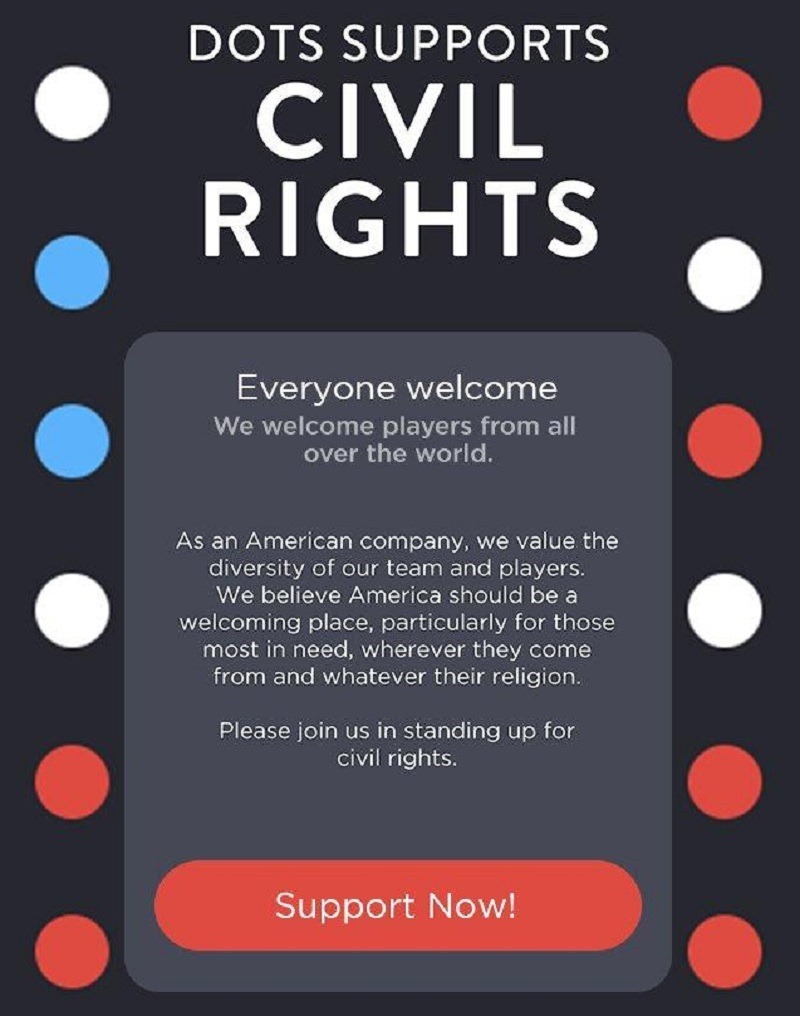 These are just some of the ways developers – both directly affected and not – are using their craft to rally behind the hundreds of thousands of citizens on the streets, at airports and in front of political houses in the United States, as the country (and collectively, the world) continues to reel after week one of Trump's presidency.
Last Updated: January 30, 2017