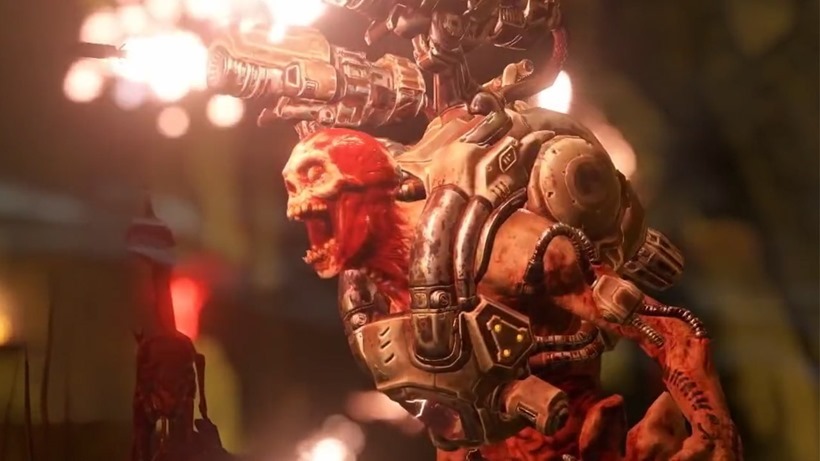 I'll be the first to admit that the first look at DOOM we got at E3 this year was a little disappointing. Aside from the exciting custom map functionality, the single-player footage was sluggish, the animation repeated far too often and there was really nothing screaming unique. What DOOM is remembered for is its twitch injected , punchy shooting from an age where first-person shooters were the innovation.
Thankfully a little footage from this weekend's incoming alpha rekindles some of that shooter love.
The alpha kicks off today (have you checked your email?) and acts as the first taste of DOOM players will get before the more open beta later this year. Bethesda are ready to start watching and tweaking after player feedback, but understand that this limited test isn't letting everyone in. That's why they've shared a small look at the content waiting on the other side of the demon curtain, and it tickled a happy nerve deep inside of me.
I just adore how chaotic and fast everything is, a far cry from the footage shown on stage a few months back. Add to that mix the deliciously gruesome finishers and the gory chunks of body arts our opponents explode into after being hit by a direct shotgun shell, and you've got a DOOM that, well, looks exactly like what its name suggests.
The alpha only includes a single game mode, a single map, one demon and a handful of weapons, but it's the first slice of gameplay from the highly-anticipated sequel that fans have been dying for. I'm pretty excited to see what else manages to worm its way out of this weekend, ahead of the Spring 2016 release for DOOM next year.
Last Updated: October 23, 2015