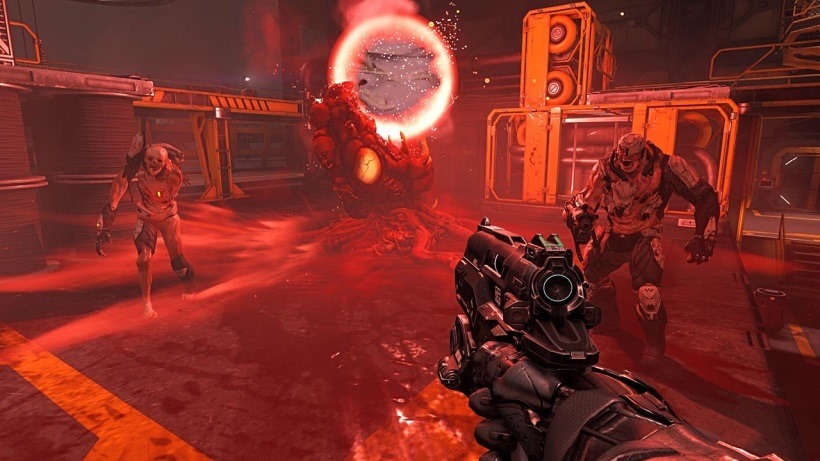 DOOM is bringing back the arena shooter, and I'm itching at the chance to get down and dirty with some incredibly fast paced, twitch shooting. We've already seen some of the diverse weaponry on offer when the online doors finally open (including the traditional, good for all situations rocket launcher), but what's a good weapon if there isn't a fittingly twisted, intricate map to go along with it. DOOM looks to have not one, but nine of these waiting and ready for release.
A new, short snippet of gameplay shows off the different maps you'll engage in bloody warfare within. There's the standard Mars base with its twisting corridors and high perches, contrasted by Hell itself with lava floors and two way teleporters. It's clear that players aren't the only danger to look out for when racing around these spaces, with treacherous traps waiting for the players not paying close enough attention.
It's standard arena shooting fare though, with the maps themselves not being too big to ensure a feeling of claustrophobia at times. That increase exponentially when players are granted access to Demon Runes, allowing them to take on the form of a Revenant for example. Having a jetpack powered, rocket launching demon chasing you through narrow corridors is horrifying, but it's what will make DOOM's multiplayer just exhilarating.
It's been a while since a new arena shooter has made such a big entrance on the mainstream market, and I fully expect this to be DOOM's biggest draw. Combined with SnapMap that will allow players to submit custom maps to keep the game alive, DOOM is shaping up nicely for a game that at one point looked dead in the water.
It's out on Xbox One, PS4 and PC, with hell opening on May 13th.
Last Updated: March 17, 2016