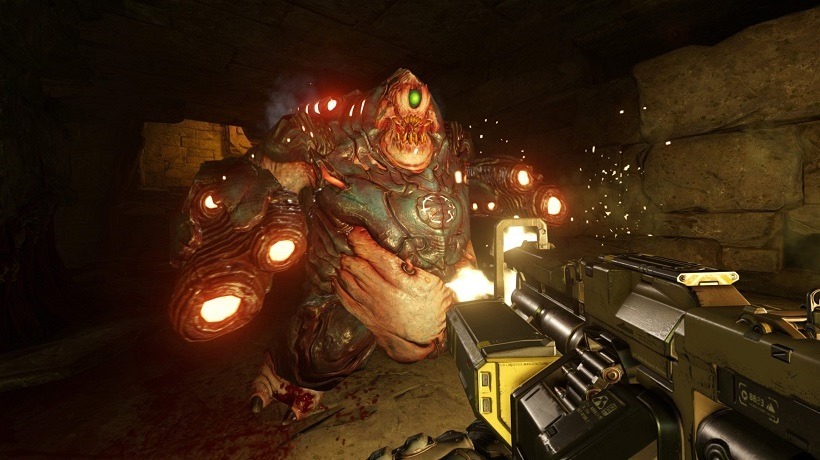 You might have missed out on the recent closed beta for DOOM, missing out on the chance to get an early tastes of the Super Shotgun, roaming around as a Reaver and shooting Darryn in the face. The arena shooting frenzy is back, but if you're still not convinced Bethesda is giving you last chance to play a little. And this time, you won't have to do anything to get in – with the last beta for DOOM being completely open.
From the 15-17th of  April, anyone on PS4, Xbox One and PC will be able to download the DOOM beta client and hop in for a weekend of frantic, bloody multiplayer. The content will be identical to the closed beta, with two game modes and maps. Classic Team Deathmatch will be present, along with the King of the Hill variant called Warpath – in which the point of control is consistency moving around the map. You be able to play both across maps Heatwave and Inferno (so like Hell and a factory filed with lava. Just DOOM things).
Along with the open beta announcement, Bethesda briefly detailed the post-launch content plans they have for the shooter. A Season Pass will be released of course) which will add a host of new content throughout the year. Although not nailing down the specifics, the Season Pass will eventually add all of the following:
Three new maps
One new weapon
One new playable demon
One new armour set
One new piece of equipment
New hack modules and taunts
New customization colours and patterns
That's just the content for the first pack, which can be bought separately too for $15 a few weeks after launch.The most important information about the DLC was omitted by Bethesda however, leaving the implementation of this additional content up for question. Will players be split between those who own it or not? Or will people be able to play on DLC maps if the server just swings them that way?
It's unclear for now, but hopefully we'll know a lot more about DOOM's multiplayer future before it launches on May 13th.
That aside, the game looks great. Here's Darryn killing things with a shotgun. When he's not being shot in the back, that is.
Last Updated: April 7, 2016