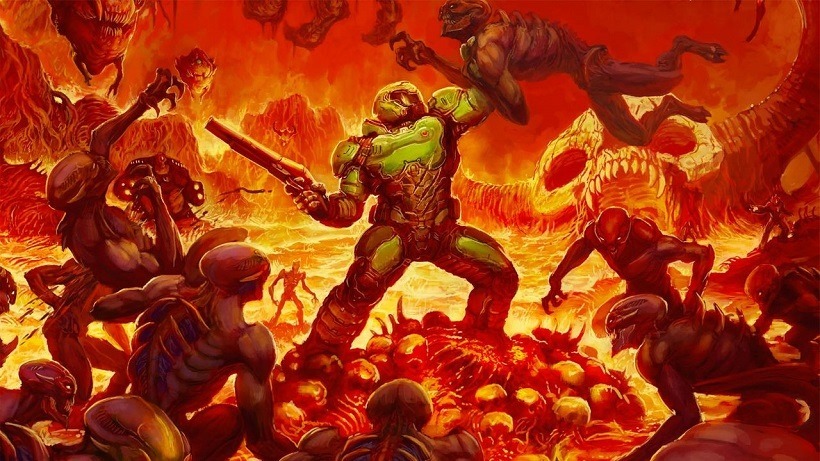 DOOM has been generating some extremely positive chatter since release on Friday, despite the fact that no reviews of the highly anticipated shooter were available before then. The iD Software reincarnation delivers an exhilarating campaign (or at least what I've played so far can be described as that), and reviews should start trickling in this week. What doesn't need to wait though is a look at just how well the game runs on console, and it might just be iD Software's best optimisation yet.
With DOOM being the 60FPS slaughterfest that you expect, having it run at anything less on console would be a crime. So it's good to see that for the most part it manages to maintain a locked 60FPS across both Xbox One and PS4. It does, however, take a toll to do that, as Digital Foundry found out in the video below.
Just like most other titles that strive for locked framerates, DOOM dynamically shifts its resolution on the fly to keep the game steady at all times. This means that the Xbox One in particular struggles to hold 1080p for the most part, dipping well below it at times to make sure that your framerate isn't halved. This is identical to Halo 5 from last year, which also easily hit 60FPS but couldn't really stay at full HD the entire way through.
This happens too on the PS4, but not as frequently (and not as drastically either). Still, even with these features in place the game does dip into the low 50s at times, although it must be said that Digital Foundry struggled to find areas where this happened. For the majority of the time DOOM is a rock solid 60, with the small blimps barely making themselves noticeable enough to be bothersome.
This all while DOOM manages to look gorgeous in motion, even if you're moving a little too fast at times to take it all in. While it's throwing horde after horde of demons at you, DOOM manages to break out some stunning lighting, impressive particles and smoke effects and fully physical environments that come alive with the brash firing of your Rocket Launcher. It might run a little better on PS4 right now, but this is a game that you wouldn't be disappointed with on either console.
From a visual standpoint at least. Our full review of DOOM will be out soon.
Last Updated: May 16, 2016