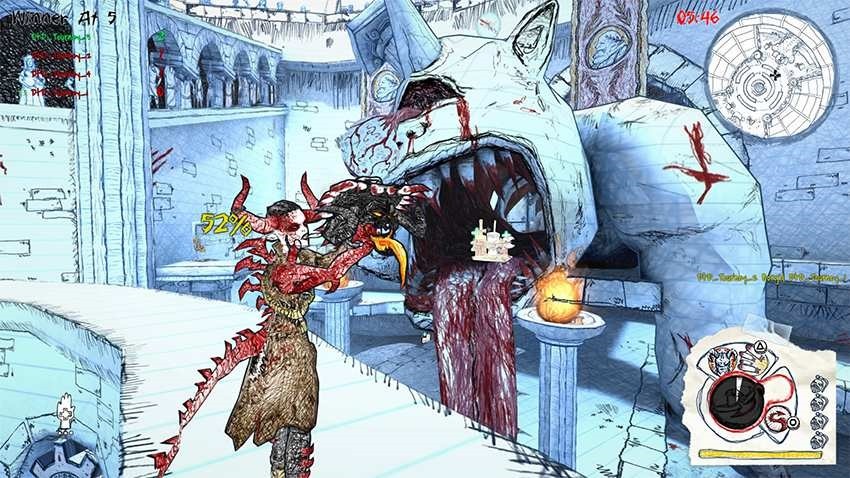 We already know that David Jaffe's Drawn To Death is going to be the headline game in April's PlayStation Plus Instant Games Collection – which takes the surprise and sting out of the month. The rest of April's games are…well, they're okay.
Well, all of the ones not called Lovers in a Dangerous Spacetime, anyway. The celebrated couch co-op game is coming to PlayStation Plus next month.
It's "a frantic 1- to 4-player couch co-op action space shooter. Explore a colorful galaxy in a massive neon battleship that you control together by manning turrets, lasers, shields and thrusters. Only through teamwork can you triumph over the evil forces of Anti-Love, rescue kidnapped space-bunnies, and avoid a vacuumy demise. Deep space is a dangerous place, but you don't have to face it alone!"
It's also a hell of a lot of fun.
The PlayStation 3 gets two entirely okay games in Invizimals: the Lost Kingdom and Alien Rage. Ok, I may be embellish a bit. They're actually pretty bad.
PlayStation Vita owners get 10 Second Ninja X and Curses 'n Chaos, both of which are PlayStation 4 cross-buy games. 10 second Ninja X is a fast and furious platformer, while the latter game is Curses a wave-based, arena-brawler video game with a focus on 2-player co-op.
The big draw, really, is Drawn To Death, which will let us see if Jaffe and co have created a fun game – or something that'll flounder as everybody goes back to playing Overwatch.
Last Updated: March 29, 2017