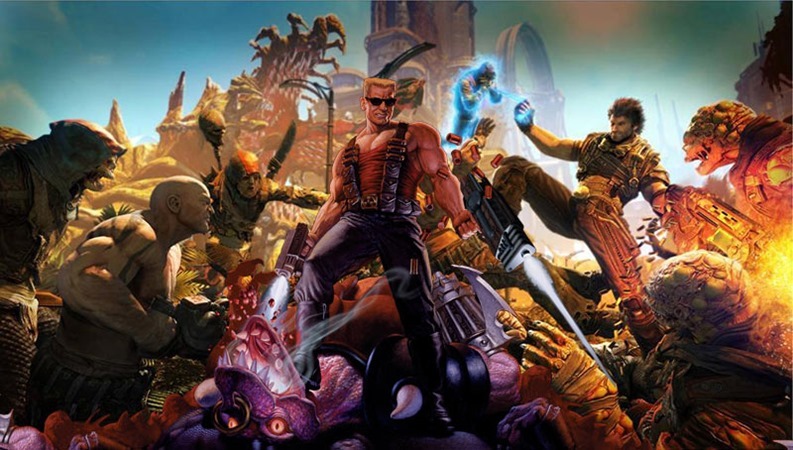 Bulletstorm! It's silly, violent and has at least one moment where you control a T-Rex deathbot named Wallgeton P. Tallylicker to help push back an armed mob of inbred prison convicts. Bulletstorm is very much a relic of a bygone era, a shooter that relied on toilet humour, profanity and excessive violence to sell itself. Kind of awesome actually.
Which is why it's probably a perfect fit for a character such as Duke Nukem to step into. Yup, Gearbox Software is partnering up with People Can Fly to bring back Bulletstorm with all the usual remaster goodies, throwing in the classic voice of Jon St. John as a pre-order bonus. "We are thrilled to be working with People Can Fly to bring Bulletstorm to new audiences and platforms," head of Gearbox Publishing Steve Gibson said in a press release.
Bulletstorm: Full Clip Edition takes a critically-acclaimed game and adds so much to it with some killer new content, including all the separate add-on packs, and kicking up the presentation to a level that wasn't possible with technology before. We hope fans of the franchise, both new and old, are going to love this.
Here's the list of features that Gearbox and People Can Fly are promising:
The Total Package: All previously-released content including all maps, modes, and more on your favorite modern platform
New Overkill Campaign Mode: Blast your way through the campaign by starting with an unrestricted arsenal of weapons and Skillshots
New Echo Maps: Showcase your skills on six brand-new levels for the score-based Echo Mode
Killer Visuals: Presented with updated models, environments, and animations all running at a smoother framerate than ever before
The Art of Destruction: Orchestrate masterful kills by mixing fast-paced gunplay with unique kick, slide, and leash combos
Visceral Audio: Bask your ears in Skillshot glory with newly remastered audio effects
Duke Nukem's Bulletstorm Tour: Pre-order the game and get the option to play through the entire Bulletstorm: Full Clip Edition campaign as Duke Nukem, featuring a fully rerecorded script and brand-new lines from the original voice of Duke
S'alright. And it'll probably be the first time that Duke Nukem starred in a game that was actually fun to play since 1996.
Last Updated: December 2, 2016