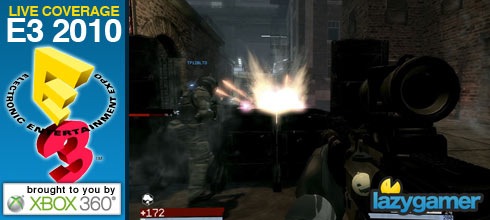 Blacklight: Tango Down is a new download-only multiplayer shooter coming from developer Zombie Games and publisher Ignition Entertainment for the PS3, Xbox 360 and PC.
Two factions known as Blacklight and The Order are battling it out in a futuristic setting where war has broken out and civilians have been infected, turning them into crazed psychos known as "The SIVs".
We interviewed Zombie's Michael Shorr to get the low down on Blacklight: Tango Down. Hit the jump for the full interview:
Lazygamer: There are tons of first person shooters out there these days, what have you done to make yours unique?
Michael Shorr: Well, we have got a large weapon customisation (system) going on so there's literally millions and trillions of combinations of weapons. You can take a sniper rifle, put a certain scope on, and magazine, it's a very rich system that we have.
Lazygamer: How deep does the system go, do people unlock items?
Michael Shorr: It's unlocked, it's a ranking system, similar to Modern Warfare. You can rank up, and as you rank up you unlock various items, whether it's gun presets, scopes, magazines or camouflage and armour for your character.
Lazygamer: What kind of modes will the game include?
Michael Shorr: We are going to have 12 multiplayer maps and 7 multiplayer game modes: Deathmatch, Team Deathmatch, Domination, Retrieval, Detonate, Last Man Standing and Last Team Standing.
Lazygamer: Will the game be focused on versus multiplayer specifically?
Michael Shorr: For the most part yes, but we do have 4 co-op missions where you and 4 friends can play against the A.I.
Lazygamer: Is it more of a wave system or mission based?
Michael Shorr: It's more linear, when I hear "wave" I think of Gears of War's Horde mode, it doesn't play like Horde mode no. If I had to compare it to something I would say that it's more like the Spec Ops missions from Modern Warfare 2.
Lazygamer: Are you planning any DLC?
Michael Shorr: No, the game is download only and we have no DLC planned.
Lazygamer: Will that possibly change, will you look at DLC in future?
Michael Shorr: I doubt it would change, I don't know though – it's certainly something that could be decided at a later date.
Lazygamer: So it will remain download only?
Michael Shorr: Yes
Lazygamer: Can you tell us what the price will be?
Michael Shorr: It will be around $15 ( +/- R120)
Lazygamer: Thank you very much.
Michael Shorr: Cheers.
Last Updated: June 29, 2010