There were 3 things that I was really looking forward to trying out at E3 this year. These were Kinect, 3DS and the PlayStation Move. I am one of only a few hardcore gamers who still really enjoys the Wii and the idea of a HD Wii with added sensitivity is an appealing idea.
For our time with Move we were taken into Sony's behind the scenes room where we could take our time and try out their upcoming augmented reality title (Move Party), The Fight and Socom.
We started with Move Party and set about bouncing chickens with fans, squashing bugs and shining a torch on ghosts to kill them… Alan Wake jokes aside the Move was incredibly accurate and receptive. The most amazing part for me personally was how accurately it could map our quick twisting motions.
Next up was The Fight, that awesome looking bare fisted fighting title that we have seen in every Move marketing campaign so far… Unfortunately I don't know what's gone wrong with this one. We have already seen that there is little to no lag on the Move but this title is incredibly laggy, so much so that it isn't fun and is hardly even playable…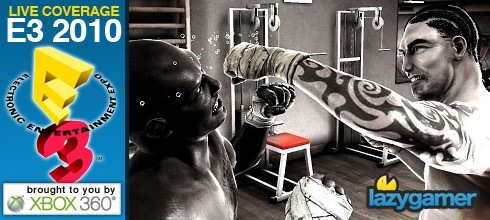 Next up was some hands off time with Socom, the title looks incredibly solid and the accuracy appeared to be more than manageable with the people playing doing a fairly decent job of taking out the enemies hiding behind cars and concrete walls.
There was also a demonstration of an upcoming dance title on the Move but after seeing Dance Central on the Kinect nothing else really matched up.
Easily the highlight for the Move in my opinion was Heavy Rain. If I didn't know any better I would argue that the game was made for the Move and then ported over to a standard controller, it was very intuitive and perfectly fitted the style of game that is Heavy Rain.
As for the controller itself, it's great. It feels perfect in your hand and is far more comfortable than the Wii, it has the perfect weight and is something you don't want to put down once you have it. The buttons are smooth and responsive and there is nothing I could really say to improve it to be honest. In other words you know it's a Sony.
Unfortunately in the end I felt let down by the software on offer for the Move, the device is exactly what we expected. It's accurate, solid and well put together but there is no killer title out there that would make it a worthy purchase right now. In essence it's a Wii HD which is pretty much exactly what we expected it to be.
*Nick's bored look in the image isn't a fair reflection of the title, he was concentrating on how well it could track his controller.
Last Updated: June 25, 2010