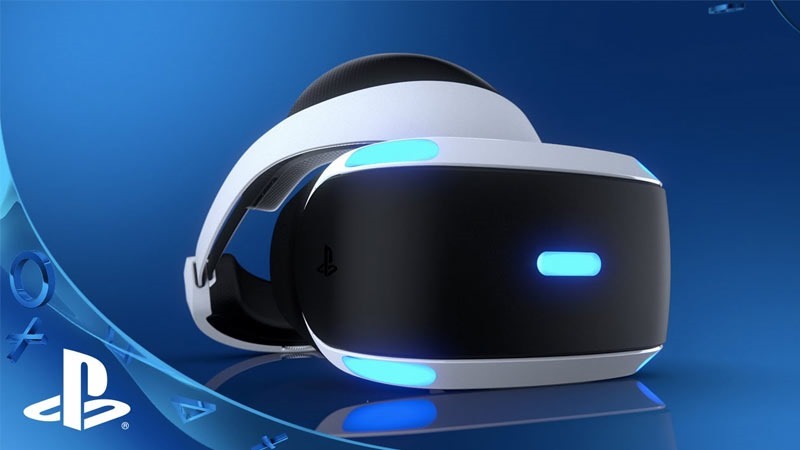 Up until around a month ago, I had little to no interest in VR. I understood the appeal of it for sure, but until it became somewhat affordable, I really couldn't care less for it
And then my girlfriend gave me a VR headset for my birthday. It houses a phone, and supplies a pretty awesome VR experience from it. It has its limitations sure (such as having no way of providing input to the device housed within), but it provided the small taste I needed to get me interested in that "niche" market.
Let's just say I now have my eyes open to all the options around me. The most appealing to me by far though, has to be the PlayStation VR. It's still expensive, but it's definitely within the range of affordability when compared to most competitors. That, and it works with the PlayStation 4 console, which I just so happen to have already.
Is the overall PlayStation VR experience any good? I headed to the Sony room at E3 to find out, where I got to play the following games…
Battlezone
Battlezone is a shooter that puts players in the driver seat of a futuristic tank. Controlling it happens via the PS4 controller, at least to an extent. You see, the standard movement is there; the left thumb stick strafes the tank forward, back, left, and right, and the right thumb stick changes the direction the tank is facing.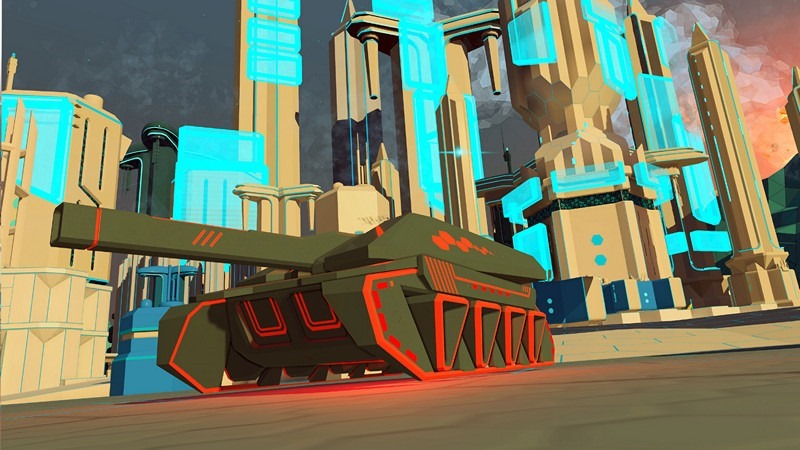 The difference with VR thrown in however, is that the right thumb stick doesn't allow a player to really aim, at least not up or down. That happens via the direction you yourself are facing. Once I had the feel for it down, looking at targets and firing at them was an absolute breeze. It did take some getting used to though, and didn't feel entirely right at first.
Still, it's a far more natural way aim, and it makes the game feel more immersive as a result. Sitting in that tank and looking around the cockpit when I wasn't blowing enemies to smithereens was quite an experience.
PlayStation VR Worlds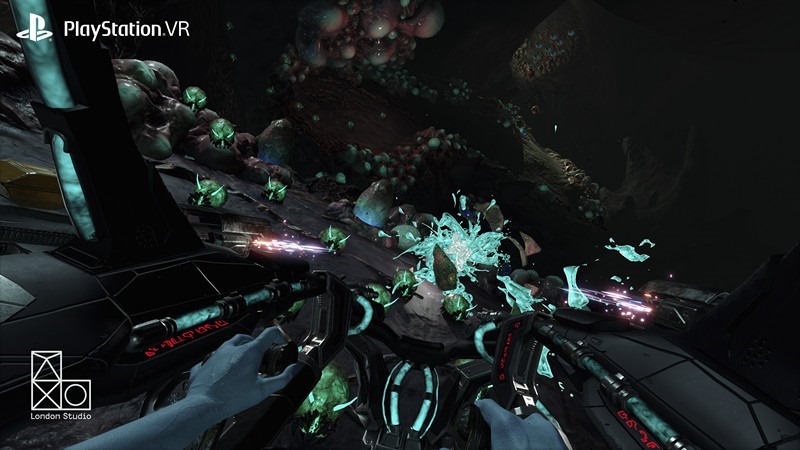 PlayStation Worlds comprises a collection of games. I got to try two of them. The first was similar to Battlezone in that is put me in the seat of a vehicle. The environments however, messed with my head a little more. I climbed up and down walls as if gravity didn't exist, all the while shooting at different enemies. Were I prone to motion sickness, I'm sure this game would've made me feel ill.
The second title in the collection I played was a little less hectic. In fact, it was a simple sports game that I can only describe as some sort of three dimensional air hockey. Hitting the ball required me to aim my head accordingly. If I moved my noggin in a certain way, or applied a fast movement, I could apply spin and such, which I found quite rad.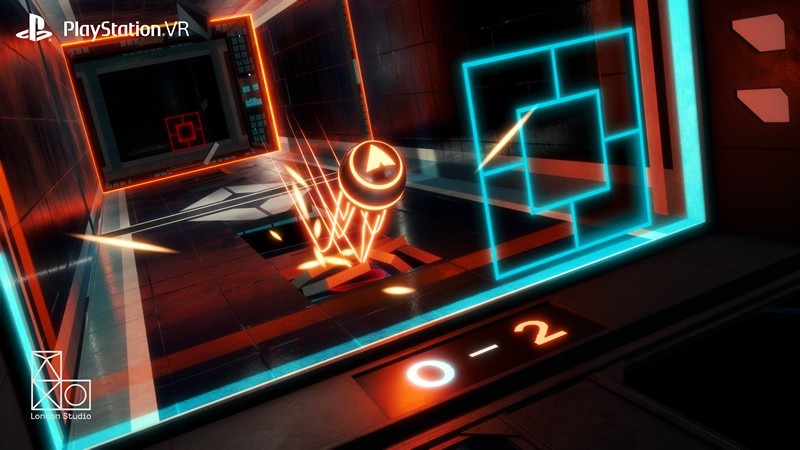 This was a neat little title that could be fun for a while. I think it would be even better with some sort of multiplayer however (I.e. 1 v 1). Unfortunately, according to the lead system designer (who was there walking me through his game), this was not supported, and wouldn't be for the foreseeable future.
Until Dawn: Rush of Blood
The last game I played, despite being a horror title, provided my favourite, and most immersive experience by far. Until Dawn: Rush of Blood is an on rails shooter, and one I would definitely love to play more of. In it, players are seated in a carnival ride that moves through a house of horrors. Naturally though, not is all as it seems. The coaster contains many scares and enemies, the latter of which are out to murder your face.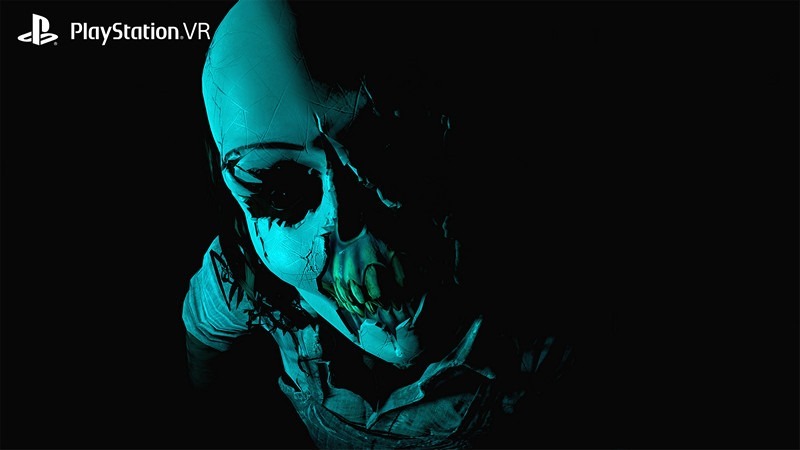 I knew I held PlayStation Move controllers, yet I couldn't stop myself from looking down at my hands. My brain knew I was holding nothing more than plastic peripherals, yet my eyes told me I wielded a pair of pistols. I just couldn't get my head around it – it was so deceiving! I waved the pistols about to try understand what was going on, much to the bemusement of any passing spectators I'm sure.
Aiming them felt incredibly natural. I managed to off enemies without so much as breaking a sweat.
So… VR?
The immersion I felt really is indescribable. I could sit here and type until I'm blue in the face, and still, I don't think it'd be possible for me to truly convey how VR feels. Nobody can truly comprehend the experience it provides until they try it for themselves.
When those goggles were on, and the headphones snapped down over my ears, the whole world around me turned off. My brain would tell me one thing, but my body, another. Let's just say there's a reason for people stumbling about when they experience falling or something of that ilk via VR. It's that immersive.
Would I buy into it? Absolutely! My brief time with the PlayStation VR really has opened my eyes to its potential.
The only problem really, is affording it all. For those starting from scratch, they'll need to invest in a PlayStation console before they can even think of getting VR. For those like me who really want to take the experience up a notch, PlayStation Move sticks are needed too.
That, and the experiences are short-lived at the moment. I'm not complaining mind you – I don't think I'd be happy sitting for hours and end with that headset and headphones on my head. It would screw with my senses just a little too much I think.
Otherwise, in small doses, I think PlayStation VR is fantastic. I definitely need to start saving to get my own setup. I only hope it has the legs to last, unlike that 3D hype that was going around a few years ago.
Last Updated: June 20, 2016