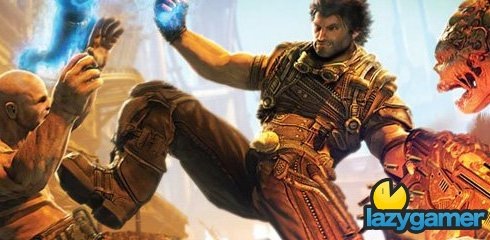 EA Games has announced that it has partnered with Epic Games and People Can Fly to release Epic's newest IP, BulletStorm.
Very little is yet known about BulletStorm but I have to admit the press release uses some awesome phrases to describe the game like
"pure, unadulterated entertainment"

and

"kill with skill"
The basic idea behind the game is that you and a buddy (must mean co-op) are working with a group of mercenaries (Dead Echo) who are protecting a futuristic confederation. Unsurprisingly the confederation are actually the bad guys and when you find out you are exiled to the far reaches of the galaxy to a land of mutants and cannibals.
You need to escape and exact your revenge… so basically the plot of virtually every second action film/game out there.
But listen to this
"Players step into the role of Grayson Hunt complete with an arsenal of over-the-top combat moves and outrageously large guns.

Bulletstorm's array of distinct 'skillshots' produces unprecedented levels of frantic gameplay and yell-inducing satisfaction. The skillshot system rewards players for inciting mayhem in the most creative way possible.

The more insane the skillshot, the more points players collects to upgrade their character and unlock weapons, which then allows them to execute even more creative moves and exaggerated skillshots."
I have to say I am intrigued, the main character (header image) looks a little to pretty boy for my liking but I can forgive that if the game is as awesome as they say it is.
Stay tuned as I am convinced we will be seeing more of this title at E3 this year.
BulletStorm is coming to the PS3, Xbox 360 and PC next year.
Last Updated: April 13, 2010