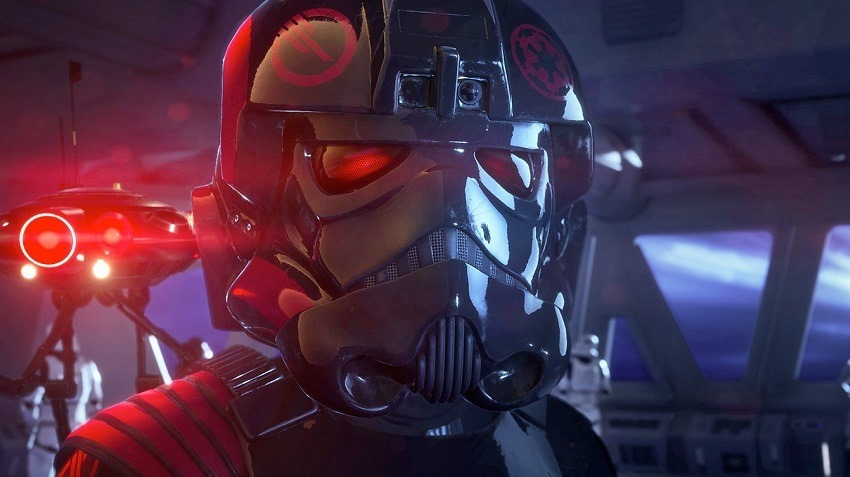 It's be a hell of a week for EA. Just a few days ago the publisher cancelled one of their first announced Star Wars titles – a new single-player adventure helmed by Uncharted's Amy Hennig – and subsequently closed the studio developing it, Visceral Games. The wording in the press release suggests a moving away of sorts from types of experiences that game would've offer. Tightly packed, solely single-player narratives, which just can't make as much dough as multiplayer ones. Good thing then that Star Wars Battlefront II has both.
And as much as EA and DICE revel in their expanded take on maps, game modes and more in the multiplayer, its the game's single-player that has been excited for this soon to launch title. Developed by EA Motive (which has Jade Raymond steering the ship), Battlefront II's story takes place in that fuzzy area between Return of the Jedi and The Force Awakens. The Emperor is dead, but the Empire still has thousands of loyal troops. And one of them, Iden Versio, really wants the Rebels to pay.
It's one of those rare opportunities to take a peek into the lives of Imperial troops, many of whom grew up in the universe where the Empire brought stability and justice, and hid their clearly evil doings from the majority. The Rebels, in this view, are just reckless terrorists, and Versio seems determined to go to the ends of the galaxy to bring them to justice for blowing up the second Death Star. Whether this will lead her down a path of redemption has yet to be seen, but getting to rub shoulders with some familiar faces on the other side of the fence is something I'd never scoff at.
Perhaps it's enough to take the sting out of Visceral's shuttering for a moment, only to have the realisation of EA's new direction hit in full swing with their lootcrate injected multiplayer. Battlefront II is out next month.
Last Updated: October 19, 2017