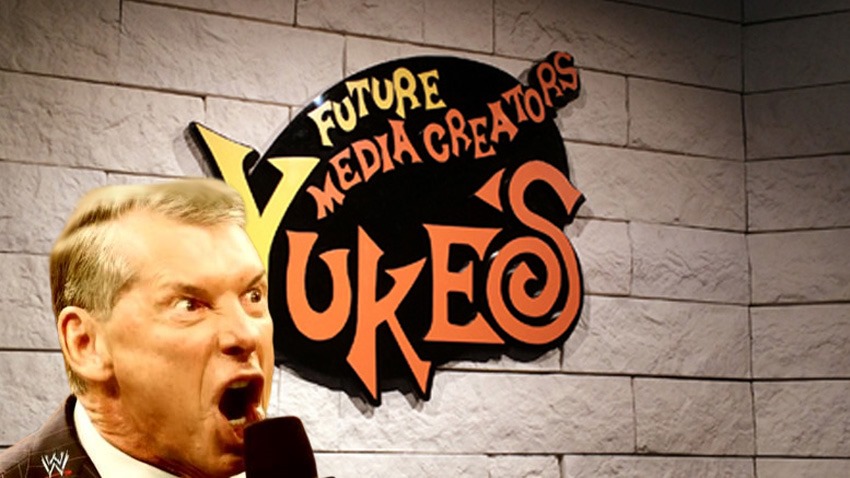 For as long as WWE wrasslin' has been an annual fixture in the video game release schedule, one developer has been at the helm of those games. Yuke's is the name of the studio, and from the sunny shores of Osaka in Japan they've been pumping out WWE games at a steady clip that dates back to the early days of when THQ handled the license and through to the modern era that is currently under the stewardship of 2K Games. Well, they were, until this week when the studio announced that they'd been future endeavoured.
Reported earlier this week via the Video Games Chronicle, WWE 2K20 will instead feature 2K's California team of Visual Concepts on development duties, while Yuke's will provide assistance to 2K on how to use the engine that they developed and injected into several games featuring massive mountains of muscles regularly slamming into one another and creating extinction-level flesh collisions. "WWE 2K20 will be developed by Visual Concepts, who have worked with Yuke's on the development of the series since WWE 2K14," 2K said to VGC.
As we've continued to invest in the WWE 2K franchise, we've seen the Visual Concepts team display incredible passion, talent and commitment to the future of the series. We thank Yuke's for their years of partnership and are excited to see what the Visual Concepts team brings to the franchise moving forward.
It's the end of an era then, but one whose writing may have been on the wall back when Yuke's announced that they'd be developing their own wrestling game. With a partnership that was clearly on the decline over at 2K, it made perfect sense for the veteran studio to look beyond the squared circle of the WWE. Each new game was being met with less critical acclaim, every good idea was paired with several awful ones in a tag team of error and 2K seemed more interested in slipping in a few chair shots of microtransactions whenever the opportunity presented itself.
"Players are expecting something new every time we release a game and we feel like we haven't achieved what we've really wanted to do," senior vice president and producer at Yuke's Hiromi Furuta said several months ago.
In many cases we're still using old assets and we're not able to do some things in the way that we want to.
Yuke's is currently working on a project which seems to be shrouded in more mystery than the conclusion of Vince McMahon's exploding limo storyline, but the tidbits of news that did leak out all point towards something exciting as a brand new development team is currently working on the untitled project. Could it be an AEW game? I'm certainly hoping so, but I'm also desperate to see a wrestling game that returns the genre back to the glory days of sports entertainment.
Something explosive in design, that urges players to unleash devastating powerbombs, piledrivers and elbow drops as they cast realism aside in favour of high risk and action.
Last Updated: August 8, 2019