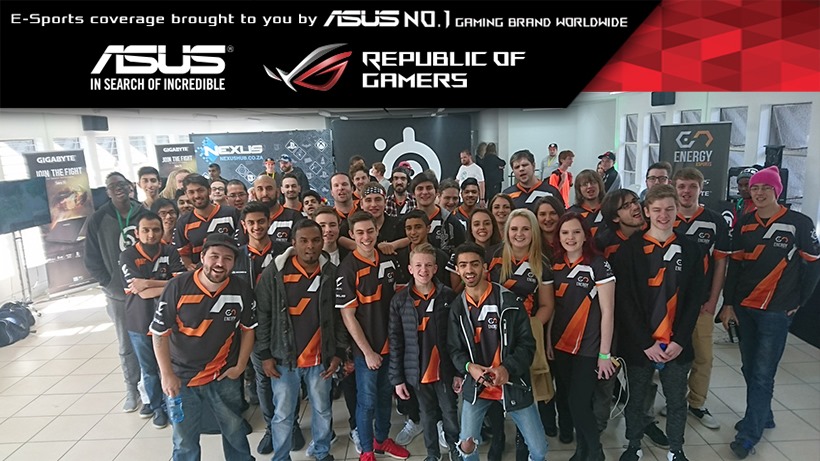 This past weekend Energy Esports hosted a fun day at the Nexus in Johannesburg. They hyped the week up with promise of a big reveal, and prizes from the long list of their sponsors. A number of live videos from the event showed a relatively packed venue as a number of fans, the entire Energy Esport organisation, and even rival organisations came through to hear what Energy had to say.
We half expected a new sponsorship announcement, as Energy had recently announced they're partnering with Gigabyte and LG, but that wasn't the case. People stood packed in a room filled with Energy Esports branding, sponsor logos, and gaming stations fit for each member of the squad – and then it became obvious. Energy Esports were announcing that their team now has a new Headquarters and would make use of the space for events, boot camps and all operations.
Our announcement at the Nexus. Thank you to everyone who came & to our sponsors @SteelSeriesZA @LGSouthAfrica #Gigabyte #Energy2017 pic.twitter.com/2Wxek8cnab

— Energy eSports (@EnergyeSportsZA) June 24, 2017
It was a day of mixed feelings as the old IS Gaming data centre would be sorely missed, but the new facility offered a change in setting for a lot of the Energy members who had been part of the organisation since the beginning.  This step by Energy will ensure proper practice facilities for the teams which will be utilised leading up to major competitions, like this weekend's VS Gaming Masters CS:GO tournament. The use of a venue like that creates a comfortable environment for teams and players to compete in and practice in, and it's one more comforting step in the right direction for organisations and teams who are pushing to be the best.
Like esports?
Check out esports central
Last Updated: June 26, 2017