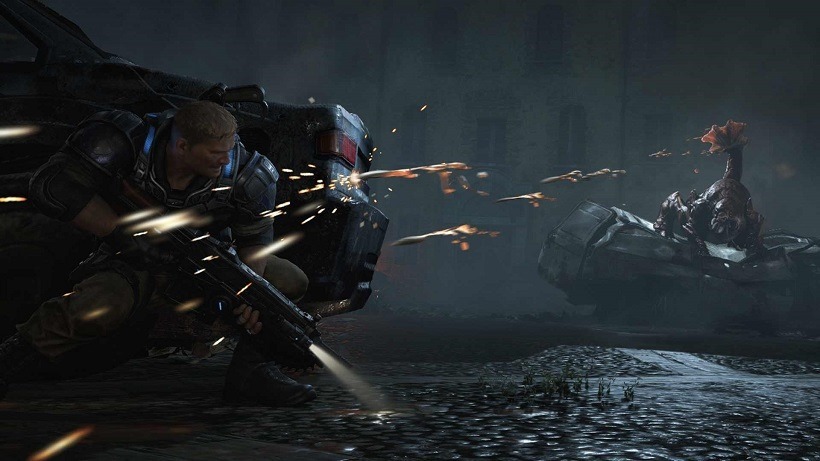 Gears of War 4 is racing towards launch later this year, and Microsoft owned The Coalition are aiming to impress with their take on the treasured Xbox franchise with a new cast, new enemies and a generally different feel to it all. A feel that happened to originate from the mothers of the franchise itself. The Coalition have integrated a lot of ideas Epic Games originally had for a new trilogy, mixing and matching the ones that worked with their vision.
Having still been a Producer at Epic when Gears of War 4 originally started, Coalition studio director Rod Fergusson explained that digging through those archives formed a stable ground for the new team to start work on their debut project. A lot of it was mapped out from them, including the existence of Marcus Fenix's son, JD, a new enemy race called The Spawn and the time period after Gears of War 3.
"When I got here [to The Coalition], we realized really fast that with all these new perspectives on the series it was going to take a long time to do preproduction on the game, so I said, 'Why don't we tap into some of the work I was doing at Epic when I was working on Gears 4 there?' We went back in and looked at what the team had done after I left, and it was not really in a place that I was happy with, so we actually rewound it to a point before I left."
It's not a straight pick up and go situation though. Although The Coalition used some of the ideas Epic had, the project only had around six months of minor work on it. That means there wasn't a whole lot to go by aside from a few concepts – most of which The Coalition changed. The Spawn, for example, retained their name, but Fergusson says their current version is completely different to the idea Epic had.
"However, the Swarm in Epic's original take was different from ours. We started talking about what the Swarm would be at Epic, but [The Coalition] completely changed it as we developed the game on our own. The name stuck, but none of the monsters stuck."
And that's encouraging, because The Coalition has a chance to brand the Gears of War series as their own with this new title. Epic Games might have moved on from making games resembling Gears, but their legacy to the series is certainly something The Coalition can't ignore. Mixing that with a little bit of their own flair sounds perfect, and we'll get out first glimpse of it in action with the Gears of War 4 beta next month.
Last Updated: March 29, 2016