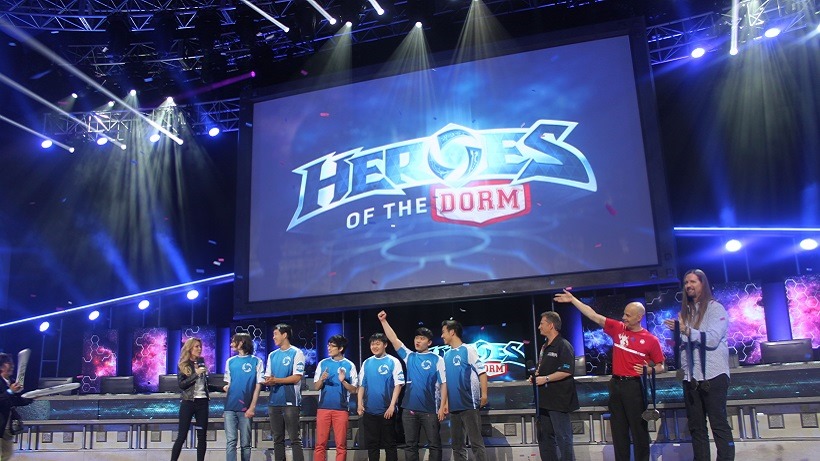 In 2015 Blizzard held the Heroes of the Dorm tournament, a collegiate competition between the top universities and colleges in the United States. The inaugural Blizzard-backed tournament received widespread recognition largely due to its coverage on EPSN – and will return to the sports broadcaster in 2016 for the second Heroes of the Dorm championship.
Heroes of the Dorm was not only an important first step for Blizzard and Heroes of The Storm. Collegiate eSports have existed in the United States for several years, but what it's truly remembered for is being the final step in ESPNs plans to include eSports. Although the event was initially met with ridicule and anguish from die-hard ESPN fans, the broadcaster stuck by their decision and now have their own eSports vertical showing keen interest on all things eSports. The tournament itself was also one of the first post-beta events which bred an interesting few players who would eventually go on to become professional players for major teams.
It's all about the prize
Heroes of The Dorm features students from 462 colleges across the United States, and they're playing for something even bigger than glory, fame or straight up cash – they're playing for $500,000 worth of scholarships. It's well known that tertiary education in the United States is not the cheapest thing around, which makes this prize probably the most important of all eSports competitions. According to the Daily Dot the semi-finals and finals will be broadcast on ESPN2, with the early stages being broadcast on EPSNs online platform, as well as EPSN3. All games will be broadcast to both Twitch and YouTube. The finals will take place on April 9th and 10th.
The 2015 Heroes of the Dorm tournament was won by Berkley, California. The team was led by famous Starcraft II player Conan "suppy" Liu, and one of their players, Fan Yang, soon after joined Cloud9, who went on to win the 2015 World Championships. Heroes of the Dorm is always an exciting showdown as it includes an extremely competitive atmosphere, but isnt played by professional players. These are hard-working students, doing what they love with the hopes of paying their college tuition. Like I said, this is an extremely important prize.
Like esports?
Check out esports central
Last Updated: January 29, 2016