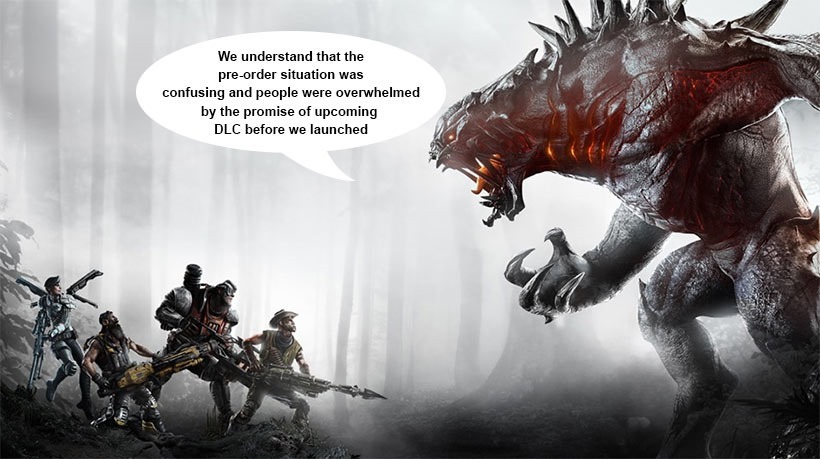 PR often seems like it's all about saying as little as you can with as many words as possible. If that's the case, Evolve Developer Turtle Rock has hit peak PR. But first, some context. As you likely know by now, the 4vs1 multiplayer game is perceived by the general populace as a failure, despite 2K's assurance that it's not only sold well, but is something that want to keep pursuing.
The game was fun, but one thing that soured its potential was its incongruous stance on DLC. While Turtle Rock made all maps available for free, to keep the player base from fragmenting, the same could not be said of Monsters, or hunter – or the innumerable number of aesthetic items available for the game as DLC. There was so much superfluous DLC for the game that at launch, you could spend more scooping up all of that unnecessary, monetised fluff for more than the game itself cost.
Speaking in a Reddit AMA, Turtle Rock responded to a question about the game's DLC with an answer that's the height of Video Game Public Relations.
"In retrospect, how do you feel about the pre-order fiasco? It was a huge mountain of controversy for you guys and you got a ton of bad press. How will this affect future game releases from your team?" Asked on Redditor (Via Destructoid)
It took over two hours, but a response was finally issued:
"Thanks for your question and sorry for the delay. We understand that the pre-order situation was confusing and people were overwhelmed by the promise of upcoming DLC before we launched. We learned a lot from the experience and we'll continue to adapt as necessary to make great games that our community can feel good about," said one of the game's producers.
That's a whole lot of nothing, said with a whole lot of words. We can't fault Turtle Rock for the response though, as the DLC policy was likely fashioned by publisher 2K as opposed to the studio.
Last Updated: September 9, 2015