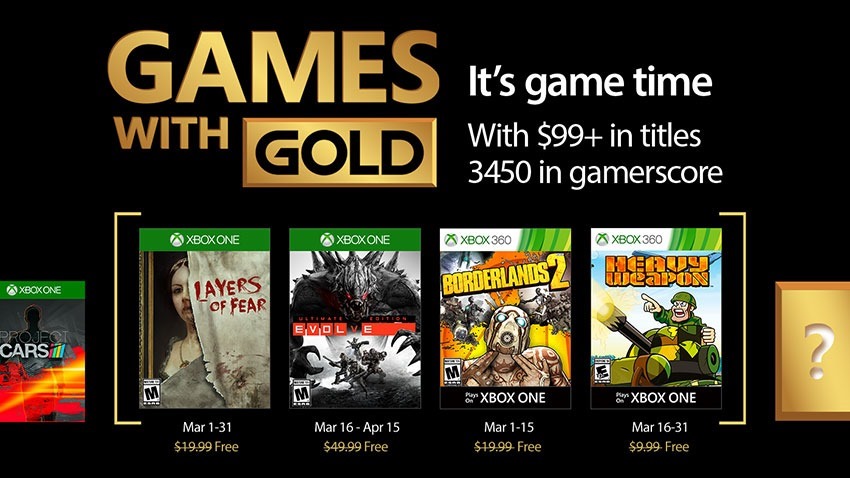 It's that time of the month again! Yes it's time to condemn or celebrate the monthly games that are given away as part of the console's online subscription services. Every month, both Microsoft and Sony give their subscribers games to play for the extra cost of absolutely nothing. It's a boon, especially given what games cost.
For a while now, I've thought that Microsoft's Games with Gold are just a little more enticing than the ones Sony's been dishing out – and that may be the case again for March. While we still don't know what games will be added to the PlayStation Plus Instant Games collection, we do know what Xbox gamers will get to play in March. And here they are:
Layers of Fear is a hella creepy horror game that makes its Xbox debut as a free game.
"Dare you help paint a true Masterpiece of Fear? Layers of Fear is a first-person psychedelic horror game with a heavy focus on story and exploration. Delve deep into the mind of an insane painter and discover the secret of his madness, as you walk through a vast and constantly changing Victorian-era mansion. Uncover the visions, fears and horrors that entwine the painter and finish the masterpiece he has strived so long to create. "
Later in the month, Xbox One owners will get Evolve's Ultimate Edition – which may be just the thing the otherwise dead game needs to give it a second life. Evolve was fun for a bit, but the Benny Hill-styled chasing of monsters and the eventual lack of players killed it. Free though? Free sounds nice – and it may just bring on some fresh meat.
Nothing at all needs to be said about Borderlands 2 (Xbox 360), other than that it's a fine game to be getting as part of Games With Gold – perfect for the 7 of you who haven't played it. Remember that Xbox 360 games in the GwG Lineup are backwards compatible on the ol' Xbox One.
The last game is Heavy Weapon a side-scrolling shooter from Peggle-maker PopCap Games. It's a decent, if repetitive game that's the weakest of the four.
Last Updated: February 22, 2017